I've been saving this one for a while. You see, not only is Aaron Rosenberg in Keen Edge of Valor (which you can get here: amazon.com/dp/B09W91TP24/), he's in the Eldros Legacy.
In fact, he's got his first Eldros Legacy novel, Deadly Fortune, coming out next Tuesday. It's a swashbuckling tale of pirates, mystery, and murder and you're gonna love it.
And he's pretty awesome too.
Aaron Rosenberg
Why are you here? This includes influences, favorite creators, steps along the way, and dreams down the road.

Ha, why are any of us here? I got started writing when I was a kid, and got hooked when I won my school writing fair in third grade (beating out the fourth-graders, I might add). I pursued writing in college—I have a BA in Creative Writing and a Masters in English Lit—and my friends and I put out our first roleplaying game when I was in grad school, around the same time I started having stories and poems in small literary magazines.
Things snowballed from there—I was mostly doing RPGs for several years, then did short stories for various game-based anthologies, then tie-in novels, then educational books and children's books, then original novels and short stories.
I'm a huge Mark Twain and Jane Austen fan, both of them were brilliant at characterization, setting, and narrative. For the more recent writers, I favor Roger Zelazny, Tim Powers, F. Paul Wilson, David and Leigh Eddings, Raymond Feist, Brandon Sanderson, Scott Lynch, and Richard Kadrey.
I write pretty much everything, and I like to keep things varied, so I'll do epic fantasy and then switch to mystery and then SF and so on.
The two areas I haven't cracked yet and would love to do someday are film/TV and comic books—I've come close on the latter a few times, but never had one come to completion. But mainly I just love to tell stories that people enjoy.
Describe your great Lab of Creation? This includes where you work, what do you listen to (if anything), things you have to have in your work environment, and stuff you've tried that haven't worked.

I write mostly at home, particularly in the evenings (I have a full-time job). The corner of our basement family room is my office space, partially walled off by a set of bookcases in front of the desk and a redwood slab along the side.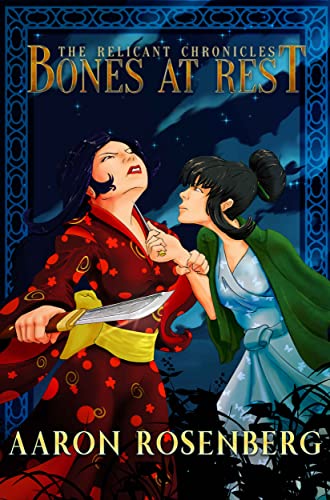 When lockdown started, though, I wound up having to do my job from there, which meant by 5pm each day I was ready to be well away from the basement! So I switched to writing on my laptop in the living room—I sit on the couch right by the window. Now that my day job is mostly back in the office I'm alternating writing up there and back at my desk again.
I don't listen to music unless there's too much noise around for me to concentrate otherwise. If I do, it's strictly instrumental, lots of soundtracks and strings, so I don't have to worry about the lyrics distracting me.
I don't really need much to write, just a comfortable chair, my computer or laptop, and my headphones if it's loud. I've written in hotel rooms plenty of times, in airports, on trains, and even at my table at conventions. That last one's a little tough for maintaining momentum, though, since I'll pause whenever someone stops by.
What are your superpowers? This includes things you like your creations, specific techniques you do well, and some favorite successes.

I'm big on worldbuilding, probably because so much of my early work was in creating RPGs. I need to know that a world makes sense—it doesn't matter that the reader only sees the tip of the iceberg, I have to know the rest of it.
That's especially true with magic—I've designed magic systems before, and for me it's really important that they are consistent, and that there is an appropriate cost.
I've gotten into the habit, over the years, of building both a cast list and a glossary for my books—I'll have those two documents open while I write, along with the manuscript itself and my notes. That way I can keep track of who everyone is, what they look like, their key traits, and also any unique words, place names, etc.
One of the things I'm good at, because I write very fast and can write almost anything, is pinch-hitting. I've been dropped into projects last-minute to salvage them when something has changed and they need extra help. It's a fun challenge, getting up to speed on something quickly, finding the gaps and weak spots, and figuring out how to fill them. One of my first big RPG projects was like that, and I've done several novels and children's books because an editor needed someone fast and good and knew I could deliver.
What will Lex Luthor use to defeat you? This includes challenges you've faced that frustrated you, learning experiences, techniques for overcoming creative challenges, things you'd have done differently, and advice for new writers.

One of the biggest problems with doing tie-in work is that you're at the mercy of the IP holder. They could decide to change something last-minute, and you don't get to argue, you just have to adjust your work to match. I've had that happen more than once—it can be an interesting challenge, but it's also really frustrating, especially if happens late in the process (like when you've already finished a book and they suddenly change key details).
We've all had failures. I wrote a book once—or started to—with a friend, and we thought it was going to combine the best of both our strengths but wound up being the worst of both our flaws instead. That was quite the learning experience!
And not just on my writing strengths and weaknesses but also on working with others. I also made a huge mistake, early on in my career, by biting off more than I could chew and not owning up to it. Now I'm very conscientious about letting my editor know if I have any issues with a project, as soon as an issue occurs.
That's one thing I always try to tell beginning writers. There's nothing wrong with turning down a project, and no one will ever think less of you for saying, "I'm sorry, I don't think I can do that in the time you need." What they will hold against you is taking the project and then blowing the deadline, turning in substandard work, etc.
If I could tell my younger self anything about writing? Huh. Probably "Stick with it, tell your editor immediately if you're going to miss a deadline, and never put off revisions."
My Kryptonite, though? That's easy—just ask me to write something but tell me "it can be about whatever you want" and "turn it in whenever you like." I'll be paralyzed! Give me a narrow, specific topic and a tight deadline, I'm happy as a clam—leave both wide open and I'm blinded by the possibilities!
Oh, I don't get writer's block, though. I don't really have time for it. I just push through, write that section the best I can, and if I have to go back and toss those pages and rewrite them, so be it—I often realize "d'oh, that's what needed to happen there!" the next day, but I can't see that unless I write through it the wrong way first.
Lightning Round
Actor/Actress You'd Like to Play Any Character You've Created
Jack Black as DuckBob Spinowitz—he's the lead character in my SF comedy series, a regular Joe who gets abducted by aliens and comes back with the head of a duck
Favorite Muppet?
Rowlf
Favorite Musical Performer We've Never Heard Of?
The Weepies
Winter, Spring, Summer, or Fall?
Fall, definitely
Favorite Superhero?
Still gotta say Spidey
Best Game Ever?
D&D, of course. 3 or 3.5.
Favorite 1970s TV show?
The Six Million Dollar Man!
Favorite Weird Color?
I don't know about weird, but cobalt blue
Best Present You've Ever Received?
A Bag of Holding, Con-Survival Edition, from ThinkGeek. I use it whenever I travel, and it's the perfect size to carry my laptop and pretty much everything I need for the day.
Favorite Sports Team?
The New Orleans Saints!
What Cartoon Character Are You?
Rikki-Tikki-Tavi
Your Wrestler Name?
The Gryphon Rose
Your Signature Wrestling Move?
Pinning people on their stomachs and pounding on their backs like I'm typing
What Do You Secretly Plot?
My next book, obviously!
How Will You Conquer the World?
Through my stories. Or my snark.
Best Thing From the 60s/70s/80s/90s? (pick your preferred decade)
Saturday morning cartoons in the 70s
Favorite Historical Period?
Edo period Japan
Person In History (Living or Dead) You Want To Hang Out With?
Mark Twain
Steak Temperature?
Medium to medium-rare
Favorite Chip Dip?
Fresh guacamole
Beverage(s) of Choice?
Unsweetened iced tea—unless I'm down South, in which case it's sweet tea all the way!
What Actor or Actress Should Portray You in Your Biopic?
Matthew Broderick
What Question Should I Add to the Lightning Round?
What can I get you at the bar? [For me, Gin & Tonic or Rum & Coke)
Editor's Note: I also enjoy gin & tonics. 53 years malaria free! Along with IPAs, of course.
What question(s) would you like to ask me?
If there's one book you could go back and time and make yours, what would it be?
Rob's Answer: I'm not entirely sure how to take this question. I mean, if we're talking books I'd like to re-write or correct something, I've got a bunch of those. Some that come to mind are Cornwell's Last Kingdom books. As a scholar of that exact time period, there are things in there that make my teeth itch. Also, there are a couple of authors who are fantastic in the first 80% of their book, but routinely don't have that epic ending their story deserves. I like epic endings and I cannot lie.
And I really wish I could have written the Song of Ice and Fire. One, it'd be done. Two, his worldbuilding is fantastic, but his prose gets bloated and the pacing of the story struggles. I would also have split it into multiple series threads so you could keep track of things better.
Tell me again where we can find your stuff?
I've got a website, gryphonrose.com, but I'm sometimes bad about updating it.
My Wikipedia page is usually more current: https://en.wikipedia.org/wiki/Aaron_S._Rosenberg
So is my Amazon Authors page: https://www.amazon.com/Aaron-Rosenberg/e/B001JRXM5S.
I'm pretty good at posting about my current projects on Facebook (facebook.com/gryphonrose) and on Twitter (@gryphonrose), and you can find a lot of my books at Crazy 8 Press (https://www.crazy8press.com/  ), Crossroad Press (https://crossroadpress.com/ ), Falstaff Books (http://falstaffbooks.com/ ), and of course New Mythology Press (https://chriskennedypublishing.com/new-mythology-press/ ).
As far as recent projects, I've had two new books already out this year, each part of an ongoing series. Focal Point is an occult conspiracy thriller set in Eastern Europe, part of the O.C.L.T. series from Crossroad Press—think The X-Files meets Mission: Impossible with some Supernatural thrown in.
Bones at Rest is the fourth in my five-book Anime-esque epic fantasy series the Relicant Chronicles from Falstaff Books—basically Crouching Tiger, Hidden Dragon meets Game of Thrones.
And where can we find you?
I'm going to be at Origins Game Fair in early June, Shore Leave in mid-July, and the GenCon Writers Symposium in early August.
Do you have a creator biography?
Aaron Rosenberg is the author of the best-selling DuckBob SF comedy series, the Relicant Chronicles epic fantasy series, the Dread Remora space-opera series, and, with David Niall Wilson, the O.C.L.T. occult thriller series. His tie-in work contains novels for Star Trek, Warhammer, World of WarCraft, Stargate: Atlantis, Shadowrun, and Eureka. He has written children's books (including the award-winning Bandslam: The Junior Novel and the #1 best-selling 42: The Jackie Robinson Story), educational books, and roleplaying games (including the Origins Award-winning Gamemastering Secrets). Aaron lives in New York. You can follow him online at gryphonrose.com, at facebook.com/gryphonrose, and on Twitter @gryphonrose.
Final question for you: What should I have asked but did not?
What I'm working on next? That'd be a short story for a pulp anthology, followed by Book Five in the Relicant Chronicles, a Sherlock Holmes novella, and a drawing-room pirate romance-adventure novel. I'm sure other projects will come up, though. J
* * * * *
We are so honored to have Aaron writing at New Mythology Press, and after this interview, I think you can see why. And if that's not enough, check out his writing.