Interview Questions
I met J.L. Gribble on a panel at ConFluence last year and we had a very good time.
What is your quest?
I love writing books that I want to read. For too long, the publishing industry has determined the trends and fads, so I love that my small press lets me experiment with my fiction and tell stories that don't fit nicely in any one genre. Romeo and Juliet with werewolves and weredragons? Time travel with a twist? I'm free to stretch the limits of my imagination, regardless of whether such things are "not done" in the urban fantasy genre.
What is your favorite color?
For a long time, my favorite color was blue. I was never a girly sort of girl, so I felt that acknowledging my love of purple would be a betrayal of things I pushed against. Now, as I take a look around my computer desk, at my purple Kindle cover, my purple post-it notes, my purple computer mouse, etc., I've learned to embrace what I love no matter what I think others might interpret from it. So while I love epic high fantasy tales and intricate, politically driven space opera, I'm also not afraid to shout my love of contemporary and historical romance novels with their happily ever afters. In embracing that love, I've learned a lot about how to create real, well-rounded relationships in my own storytelling.
What is the average flying speed of an unladen paint brush?
It all boils down to time, doesn't it? You can't measure speed without it. Like everything else, time has a price. When you're working full-time, writing at least one book a year, managing two blogs, and trying to maintain at least some semblance of health, time isn't free. I had to learn that it's okay to say no to things that might be "easy" on my end but would still cost me precious time. It can be frustrating and guilt-inducing, but the best thing possible for a creative's mental and physical health is sometimes to NOT take every opportunity that comes along.
What are the powers of your personal Holy Hand Grenade?
I wish I was the sort of writer who could sit at a computer for hours on end and crank out the words. Instead, I'm a huge fan of the concept of "writing sprints." Set a time for as little as 5 and as many as 30 minutes and write as fast as possible until the alarm blares. Then get up and do something else for a bit, preferable a task that does not include the computer. My best writing day ever was 3500 words. I also cleaned every window in my house.
Lightning Round
Favorite Muppet? Grover! Ironic, considering I'm not always a cheerful person.
Crunchy or Creamy? Crunchy chocolate sprinkles on toast. Creamy peanut butter in cookies.
Favorite Sports Team? I married into a Brazilian family, and the World Cup is currently happening. I am legally obligated to answer with the Brazilian Men's Football Team.
Cake or Pie? New York style cheesecake. Preferably one I made myself.
Lime or Lemon? Lime, as long as it's in a caipirinha.
Favorite Chip Dip? Queso
Whisky or Whiskey? Tawny 10-year port
Favorite Superhero? My husband
Steak Temperature? Medium-rare
Favorite 1970s TV show? M*A*S*H
Winter, Spring, Summer, or Fall? Summer!
Favorite Pet? I live with three amazing Siamese cats who definitely remember their species were once worshipped as gods.
Best Game Ever? Spinner
Coffee or Tea? All of the above, plus chai
Sci-Fi or Fantasy? Both. At the same time.
What question(s) would you like to ask me?
What did you want to be when you grew up?
Rob's Answer: To play for the Dallas Cowboys. To fly an X-Wing. To be a paladin of legend.
I've always been partial to fantasy.
Tell me again where we can find your stuff?
And where can we find you?
My schedule for the rest of 2018 includes Pittsburgh's Confluence in at the end of July, Salt Lake City's FanX Salt Lake and Washington DC's Capclave in September, and Baltimore's ChessieCon in November.
Do you have a creator biography?
By day, J. L. Gribble is a professional medical editor. By night, she does freelance fiction editing in all genres, along with reading, playing video games, and occasionally even writing. She is currently working on the Steel Empires series for Dog Star Books, the science-fiction/adventure imprint of Raw Dog Screaming Press. She is also the film review editor for SpeculativeChic.com. Previously, she was an editor for the Far Worlds anthology.
Gribble studied English at St. Mary's College of Maryland. She received her Master's degree in Writing Popular Fiction from Seton Hill University in Greensburg, Pennsylvania, where her debut novel Steel Victory was her thesis for the program.
She lives in Ellicott City, Maryland, with her husband and three vocal Siamese cats. Find her online (www.jlgribble.com), on Facebook (www.facebook.com/jlgribblewriter), and on Twitter and Instagram (@hannaedits).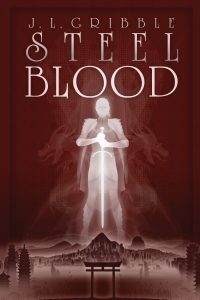 Final question for you: What should I have asked but did not?

You should have asked when is your next book release?
People keep congratulating me on finishing my book trilogy. LITTLE DO THEY KNOW: Book 4 in the Steel Empires series, Steel Time, will be released September 2018 from Dog Star Books. Steel Time brings together the leading ladies from Steel Victory, Steel Magic, and Steel Blood as they encounter a literal race against time. The cover reveal is coming soon, so readers have plenty of time (haha, see what I did there?) to catch up on the three previous books!
---
Finally, let me know any suggestions or comments you have about this interview format so I can keep tweaking it.
Thanks for reading. If you're interested in any of the other interviews I've done, you can find them all here: https://robhowell.org/blog/?cat=326.
If you are a creator, especially an independent creator, and you want to be spotlighted in a future interview, email me at rob@robhowell.org.
Also, if you want to join my mailing list, where I'll announce every interview, as well as what's going on in my life, go to www.robhowell.org and fill out the form (Name and Email Address) or drop me an email and I'll add you.