Week 8 of 2023

Greetings all
I was involved in not one, but two releases this week!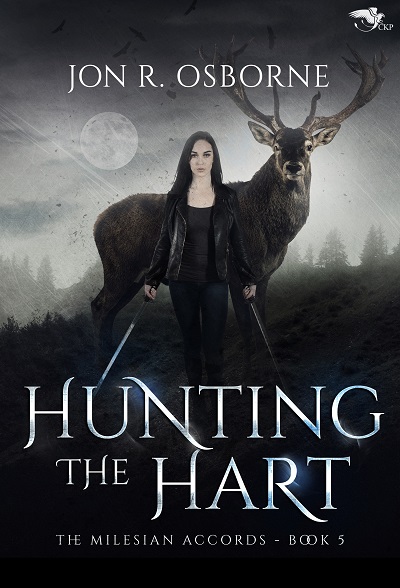 The big one is Hunting the Hart, by Jon R. Osborne. This is the fifth in his excellent Milesian Accords series where the modern world and the magical world collide.
It's full of action, mythology, history, and great characters. Just like the other four in the series.
Get Hunting the Hart here: amazon.com/gp/product/1648556477
Also this week, Postcards from Mars came out. This was a fun exercise where Cedar Sanderson and C.V. Walter provided a bunch of authors with small, postcard-like images of characters they'd drawn. They asked the authors to write a 50-word story based on that image.
Yes, 50 words, not 51, I asked.
Writing a full, complete story in 50 words is challenging, and I probably cheated. Mine has a story arc, so it fits, but it's also a good first chapter.
Anyway, if you want to see some great art and some authors pushing their writing skills, check it out here: amazon.com/dp/B0BW7Y5PP5.
Also, if you want a sneak peak at the image that was my inspiration, join my Patreon at: patreon.com/rhodri2112. This is just another free benefit I provide to thank my subscribers.
I made good progress on Where Now the Rider and some progress on Farewell, My Ugly. This was an odd week, however, as there is a major house project I'm working on that took a great deal of my time. I'm sure I'll have more to say on that down the road.
So, with that, I'm going to get back to editing and see if I can catch up a bit.
What I'm Listening To
Definitely a Sabaton kind of week. Currently, I'm listening to the title track of The Art of War, a great album with Sun Tzu quotes weaving through the songs.
Quote of the Week
I've been lucky in that I've gotten to see quite a few places in my life. One of the remaining bucket list items is the Hagia Sophia in Istanbul. Today, in 532, Justinian the Great laid its foundation stone and that's a great reason to have a quote from him.
"Justice is the firm and continuous desire to render to everyone that which is his due."
– Justinian I
Rob's Riddles

I have a Patreon where I write Old English style riddles and provide snippets of my work. You can find it here: patreon.com/rhodri2112, along with a sample riddle.
First Line of Next Riddle:
In my name, great works       gifted us the stars
Latest Snippet: Chapter 3 of Hunting the Hart

New Mythology Works in Progress
Magic has returned to the world, but so has an ancient foe.
Erin Donnelly, descendant of Cu Chulainn and Champion of the Folk, searches for Nechtan—her lover cursed to live as a stag for a year and a day. Enlisting the aid of allies, Erin maintains a vigil, turning back hunters and predators who might harm Nechtan in the wilds of the magical otherworld.

But when Stangr Iron-skinned escapes his imprisonment in the River of Time, he has one thing on his mind—revenge on Nechtan. Stangr's thirst for vengeance takes him from the Seelie courts of the otherworld to the windswept Great Plains.

Can Erin find Nechtan before Stangr tracks him down? Erin beat Giwargix the Dragon-Slayer, but can she defeat a jotunn-blooded Viking impervious to blades and bullets?
Rob's Works in Progress
Sowing Spring's Wrath (3,213)
Farewell, My Ugly (58,812)
Rick Blaine (8,845)
The Feasting of Vengeance (3,405)
Tracked Items
Today's Weight: 346.2
Updated Word Count: 104,561
Firehall Sagas Archives: 737 entries
Let me know if you have any suggestions on the website, this email, or cool story ideas at
rob@robhowell.org
. Especially let me know of suggestions you have for the Spotlight section.
Have a great week, everyone.
Rob Howell
Creator of the Firehall Sagas Universe