Greetings all
Another great week in Robville. I sent The Ravening of Wolves to Chris Kennedy on Sunday. I'm really pleased with how it turned out. It's got more one-liners and humorous bits than most things I've written, along with a heavy dose of fighting. I re-read novels a bunch of times during the process. This one didn't get old.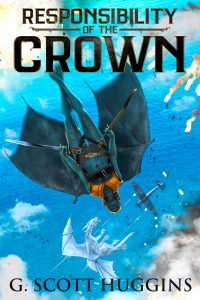 We also revealed the cover for Responsibility of the Crown. As you can see, it's gorgeous.
Scott wrote a great story, and it was an honor to be a part of getting it released. You're going to love this story.
Since the novel went to Chris, that means I can start on a new project. It's a short story in a universe I've not written in before. I told the anthology editor I planned on writing something a little whimsical, more whimsical than anything I've written before. This will qualify, and yet it'll be a good story.
That's it for now. Tonight and tomorrow, I'll be watching the NFL Draft on Zoom. If you want to join me, hit me up with an email or on Facebook and I'll send you the link.
Monday, we record our next Dudes in Hyperspace, so if you don't join me tonight, I'll go over my thoughts, along with Bob Sturm of 105.3 The Ticket and the The Athletic.
Have a great week.
What I'm Listening To
Leadup to the NFL Draft
I don't have the exact quote, because I'm like one of the two fans of the movie The Fish That Saved Pittsburgh, but this is a paraphrase of a quote from Driftwood. There's a kernel of truth in this, but man, I do love the draft.
"No, I entered the military draft and went to Vietnam to get away from the league's draft. Those guys were animals."
― Driftwood, The Fish That Saved Pittsburgh
New Mythology Works in Progress

Deadline: 31 July
Words: 7k-10k
Manuscript: In .doc or .docx file format, Times New Roman, 12pt, 1.5 spaced
Send To: rob@chriskennedypublishing.com
Prompt: Write a fantasy story involving a beast or monster. While the story can include elements of horror, it should not be a horror story; it should be a fantasy and lean toward the heroic. Feel free to make the beast or monster your protagonist, but if not, the creature must be a central figure, (like Grendel in Beowulf).
As mentioned, we will choose the top four stories out of those submitted to add to the anthology. This is especially aimed at newer authors, though authors of any experience can enter.
Just Released: Songs of Valor (Book 2 of the Libri Valoris anthologies with Larry Correia, David Weber, Glen Cook, Dave Butler, and Sarah Hoyt). You can find it here: https://www.amazon.com/gp/product/B08Z7Z3KT1
12 April: Accepted (Book 2 of the Balance of Kerr series by Kevin Steverson.
21 May: Responsibility of the Crown (Book 1 of the Endless Ocean series by G. Scott Huggins)
The Ravening of Wolves (96, 094 and sent)
CWTAE (1,701)
Rick Blaine (8,845)
CB (8,418)
Cynewulf (8,642)
Gato (2,312)
Today's Weight: 337.8
Updated Word Count: 114,981
Shijuren Wiki: 725 entries
Let me know if you have any suggestions on the website, this email, or cool story ideas at rob@robhowell.org. Especially let me know of suggestions you have for the Spotlight section.
Have a great week, everyone.
Rob Howell
Currently Available Works
Shijuren
Nick Patara, PI

Four Horsemen Universe
The Phases of Mars
Short Stories
If you think you received this email incorrectly or wish to be unsubscribed, please send an email to shijuren-owner@robhowell.org