Greetings all
I'm starting a new semi-regular thing. As you probably know, I do a Spotlight on some artist, author, or vendor each week in my updates. This will be an expanded version of that, where I'll interview some great independent and up-and-coming creators. I'll ask hard-hitting questions like "What is their favorite Muppet?"
In truth, while I'll be phrasing this in a light-hearted way, it is my hope that these interviews will have provide a little insight in their creative process. Remember, there's one true creative process, and it's the one that helps you create, but that doesn't mean one shouldn't learn what works for others.
I'm lucky to start off with Chaz Kemp. I met Chaz as part of Pandora Celtica when they came to house for a house with Sooj Tucker. It was an amazing show, and all of them gave me a bunch of CDs. I've listened to those over and over, and some are on the playlist
that helps me write.
However, Chaz is not only a drummer and a singer, but also an excellent artist often focusing on Steampunk themes, such as this one:
You can find his work at:
The Interview
What is your quest?
To continue creating a multi-cultural steampunk/fantasy world called Ashelon by using my own Art Nouveau styled illustrations.  We're also including novellas and short stories written by my wife, Carolyn Kay and other authors to help flesh out that world.
I want my dream and passion for Ashelon to be something amazing that fans can really groove on.
What is your favorite color?
I love creating my art digitally by using a vector-based program called CorelDraw.  It's like Adobe Illustrator but I find it more versatile.  Through years of honing my technique, I can make my pieces feel more natural and the colors more vibrant while still embracing the illustrative quality I love so much. 
I also enjoy the way that I can make changes to my art on the fly by switching out colors, body positioning and even the backgrounds without having to take hours or even days repainting things just to try something new.
What is the average flying speed of an unladen paint brush?
As a freelance artist, one of my biggest hurdles involved gaining respect.  I went out of my way to treat my clients with respect and kindness, but they didn't always feel the need to reciprocate early in my career.
It took time to learn that I had the power to say 'no' when faced with the prospect of working with someone who wasn't going to treat me well.  I could also say 'no' when a potential client didn't want to adequately compensate me for the work I was to do for them.  As I won more awards and gained more of a reputation for doing good work, I ran into fewer problems.
Another challenge came with the frustration of trying to get in with big name companies like many of the New Age companies or table top RPG leaders. They just wouldn't write back to me.
After talking with a few industry 'insiders' I discovered that most of those art directors don't actually care about the artist or their art, all they really care about is whether they think the artist can make them money.  As an example, photo-realism is the hot style right now, so that's all they're interested in and those are the only artists they're willing to hire. If I were a photo-realistic artist, all I'd ever be to them is a thing that made them money. So truthfully, getting rejected by them was actually them doing me a favor.
What are the powers of your personal Holy Hand Grenade?
I feel that while I am inspired by the Art Nouveau movement and by Alphonse Mucha in particular, I don't directly copy him.  I take the style and make it my own.  I love that many people can see his inspiration in my work.
I'm also quite proud of the fact that several of my main characters are multi-cultural because there isn't enough of that in the Steampunk genre.  In reality, the 1800s happened everywhere, not just in Victorian England. So why have art centered around one culture when I can explore the ideas of Steampunk in every culture? When you do that, the ideas are endless and ongoing. Not only that, but we get to have multiple cultures represented in a way that you don't normally see them and that's just too cool.
Lightning Round

Favorite Muppet?  Pepe the King Prawn – he's quite hilarious.
Crunchy or Creamy?  Crunchy when it comes to peanut butter… Creamy when it comes to soup.
Favorite Sports Team?  Denver Nuggets all the way.
Cake or Pie?  Pie for sure… there are more varieties of pie and most of them are DELICIOUS!!
Lime or Lemon?  Lemon
Favorite Chip Dip?  Bean dip FTW
Wet or Dry?  Wet when it comes to drinks like Moscow Mules – Dry when it comes to computers and socks.
Favorite Musical Performer we've Never Heard Of? Mark King of Level 42 – he's a good song writer and singer, but an AMAZING bass player.
Whisky or Whiskey?  Whiskaaaaaaaay!!
Steak Temperature?   Medium Well (ed. note: Sigh, it could be worse I suppose)
Favorite 1970s TV show?  Wonder Woman
Winter, Spring, Summer, or Fall?  Summer – perfect beach weather.
Favorite Pet?  Our cats Sif and Naira.
Coffee or Tea?  Coffee hands down!
Sci-Fi or Fantasy?  Fantasy every time.  The closest I get to Sci-Fi is either cyber punk (Which is cool) or Steampunk (Which is awesome)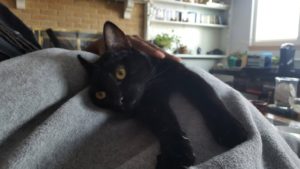 What question would you like to ask me?
The fact that you have SO much information about your world of Shijuren is amazing.  I'd love to develop that level of detail for my world of Ashelon!  How long did it take you to create your world and what inspired you to do it?  
My Answer: It's not really something I do all at once. I just use whatever inspiration comes to mind. If I run across something interesting, I toss that in.
One of my most useful tools is Wikipedia's random article button. I will literally sit in front of a football game or something like that and just click it. Every time I see something interesting, I cut and paste into a Notes document. Then, when I am looking for something, a town, a new character, inspiration for an event, whatever, I glance at that. The randomness helps keep me from doing the things I always fall back upon.
I have also had help from people like Adam Hale, who does all the maps for me. I gave him license to add geographic details and names, based on certain parameters, and that helps shape strategic and tactical choices by my characters.
I love worldbuilding. I do a little bit here, a little bit there, and then suddenly there's a thing.
Tell me again where we can find your stuff?
Final question for you: What should I have asked but did not?
You should have asked, "What game are you currently grooving on?"  I would respond with Cards Against Humanity!!  We just had dinner at a friend's house this past weekend where we played CaH and I laughed so hard, my face hurt the whole rest of the weekend.  So much fun!!
******
Speaking of fun, I enjoyed this quite a bit. I will start doing these on as many Tuesdays as I have one ready.
Thanks very much to Chaz for being the guinea pig and helping shape these questions. I know I'll be seeing Chaz at ConQuest on Memorial Day. I suspect you'll find us sharing a beverage at some point there.
If you are a creator, especially an independent creator, and you want to be spotlighted in a future interview, email me at rob@robhowell.org.
Also, if you want to join my mailing list, where I'll announce every interview, as well as what's going on in my life, go to www.robhowell.org and fill out the form (Name and Email Address) or drop me an email and I'll add you.