Week 45 of 2023

Greetings all
Wow, what a momentous week. Lots to get to but at the end, I get to talk about something truly cool.
First, while I was at 20Books, Farewell, My Ugly came out. So excited to see it come to fruition. You can get it here: amazon.com/dp/product/B0CMPCYD3W.
20 Books was great. I learned a ton and will be putting that into practice throughout 2024. I spent most of my focus on advertising and publicity, which I'll touch on again in a moment.
It's also a fantastic place to check in with a bunch of others in the industry. Of course, much of this was simply hanging out with friends I haven't seen in far too long, but of course it's also hanging out with people I've not met before.
However, I don't like Vegas. It's boring, contrived, uncomfortable, and expensive. It's good to be home.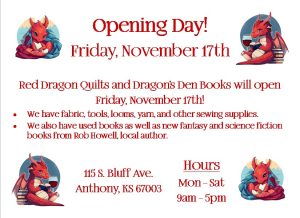 The next momentous thing is… well, rather than explain it, check out the ad we put in the Anthony Republican.
For those scoring at home, that's tomorrow. Going to be a fun day.
But back to the publicity thing, which is the next momentous thing. It was my plan to use 2023 to work on publicity and growing both the New Mythology and Firehall Sagas fan base. Then, of course, we got the amazing opportunity in Anthony, so I never really had the chance to put as much effort into this as I wanted.
Frankly, I haven't had enough time to re-edit and shepherd the new releases, set up the bookstore, learn new advertising skills, and get all of the other writing I've committed to complete according to deadlines.
Something had to give, and that something is the Firehall Sagas timeline.  We're going to hold off re-releasing the Irinasaga, the second series I've written in the Firehall Sagas. Since we completed the Edwardsaga, this is a great time for a break. Also, I'm aiming to do a 5th book in that series in late 2024.
Instead, I'm learning publicity. To start with, I'll spend the next quarter learning Facebook ads and incorporating those into my daily routine. Then, in February or so, I'm going to try TikTok or YouTube. Also, with the help of Kacey Ezell, we're building a New Mythology mailing list. Then, in the summer of 2024 or so, I will be rebuilding how I do my mailing list. More to come on that when it's relevant.
By the way, if you see one of my ads on Facebook, a like or, even better, a love, will help those out.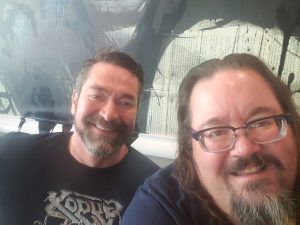 Now, I mentioned other writing projects. First, I owe all the readers of the Foresters The Feasting of Vengeance, book 3 in my sub-series about the Queen Elizabeth's Own. I wanted to have this out this summer, to follow 2019 for The Feeding of Sorrows and 2021 for The Ravening of Wolves. Obviously, that didn't happen. It needs to get done in 2024.
However, here's where we get to the really cool part.
That guy in the two pictures is Luke Gygax. That's a familiar name to many of you, and yes, he's one of Gary Gygax's sons. For those who don't recognize the name, Gary Gygax invented Dungeons & Dragons, which is honestly a major cornerstone in this whole career for me.
I have the incredible honor to join his team creating the World of Okkorim. I'll be writing a variety of things in the world, and while I can't talk much about what we're doing, I can tell you we're doing some cool things.
You can actually get started playing in this world with some modules he has available. Here's one on Amazon, in fact, The Eye of Chentoufi. I've actually had the pleasure to play in this module, and our group had a great time. We played at 20Books last year, in fact, and it's actually how I got involved in the project. You can get it here, by the way: amazon.com/dp/B0BWK8DS61.
Stay tuned for continuing releases.
And with that, I better get going. I have to get up early for opening day.
What I'm Listening To
Ravens v. Bengals. It was trending to be a great game, but then Joe Burrow got hurt and that's going to make it difficult.
Happenings in Anthony

We may never get to go back to trivia. We've one the last 3 weeks in a row.
More importantly for the town, they put up a bunch of decorations this week. Also, they've got a number of fun things going on next week.
Quote of the Week
Today is the birthday of my favorite Dallas Cowboys player ever. It's not Roger Staubach, Troy Aikman, Tony Dorsett, or any of the normal names. It's actually Harvey Martin. Nicknamed "Too Mean," to counterpoint "Too Tall" Jones on the other side of the defensive line. Had sacks been an official statistic during Martin's career, he might very well be in the Hall of Fame.
Sadly, drugs and alcohol hit him hard after he retired and while he got clean later in life, he died far too soon at age 51 in 2001.
In any case, if you see me wearing a Dallas Cowboys jersey with 79 on it, it's him.
"I'm not mean, just aggressive."
– Harvey Martin
New Mythology Works in Progress
Of note, this now includes our recent releases, so if you're not sure what we've put out lately, you can go here and check.
Rob's Works in Progres
Rick Blaine (8,845)
Okkorim (18,840)
The Feasting of Vengeance (3,405)
Tracked Items
Today's Weight: 361.1 (Did I mention I hate Vegas? I had salads a number of times and I tried to eat well, but it's just impossible)
Firehall Sagas Archives: 758 entries
Let me know if you have any suggestions on the website, this email, or cool story ideas at
rob@robhowell.org
. Especially let me know of suggestions you have for the Spotlight section.
Have a great week, everyone.
Rob Howell
Creator of the Firehall Sagas Universe