Week 6 of 2023

Greetings all
Last week was so epic, this week had to pale in comparison. And it did.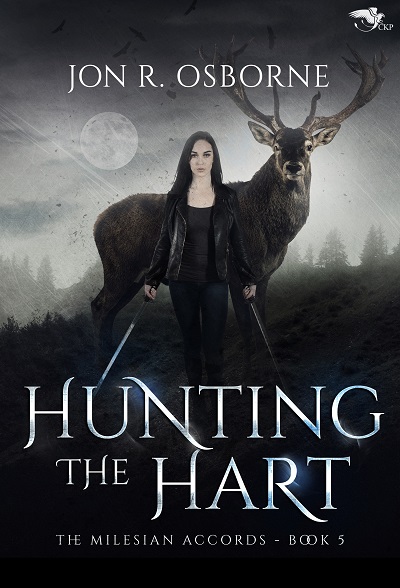 Not to say it wasn't productive, just not as epic. And this week, we have a cover. Here's the cover for Hunting the Hart, book 5 in Jon R. Osborne's excellent Milesian Accords series.
This one stars Erin, descendant of Cu Chulainn and Champion of the Folk. She's trying to save her cursed lover before an ancient foe wreaks his revenge. Great stuff.
This comes out on February 21st.
I got another 3rd of The Eyes of a Doll edited. I should have it done next week and on to Where Now the Rider. Once that's going, I'll be rolling back into Farewell, My Ugly. I aim to have that draft finished by the end of March.
I also had a number of personal projects to work on this week that have taken some time.
To be honest, though, I've moved pretty slowly this week. Don't know it was the change in the weather or if there was something else, but I've had achy, grumbly week. Nothing bad, just slightly off-kilter.
Ah, well, that means I better get back to it. Have a great week everyone.
What I'm Listening To
I have a cluster of performers who sit as 2nd best to Rush. Right now I'm listening to Number of the Beast by Iron Maiden. Part of that is the depth in their lyrics, the hammering power of three guitars, and Steve Harris. However, a big part is Bruce Dickinson. He and Ronnie James Dio are 1 and 1a of metal voices for me.
Quote of the Week
Frank Frazetta would be 95 today, so happy birthday to the most iconic fantasy artist ever. You may not know the titles Death Dealer or the Egyptian Queen, but chances are you've seen them and others here and there.
Here's what he said he wanted to do. I think he got it.
 "I want to do something that nobody has done before me. And I want to do it in such a way that nobody will forget me for it."
– Frank Frazetta
Rob's Riddles

I have a Patreon where I write Old English style riddles and provide snippets of my work. You can find it here: patreon.com/rhodri2112, along with a sample riddle.
First Line of Next Riddle (Coming Feb. 13th)
I live in the ground                   but my greatest is high above
Congrats to David for guessing the riddle from January 23rd. Great job.
Latest Snippet: Chapter 2 of Hunting the Hart, by Jon R. Osborne.
New Mythology Works in Progress
Hunting the Hart is the next new release, coming out on February 21st. This is book 5 in the Milesian Accords by Jon R. Osborne, and here is it's blurb:
Magic has returned to the world, but so has an ancient foe.
Erin Donnelly, descendant of Cu Chulainn and Champion of the Folk, searches for Nechtan—her lover cursed to live as a stag for a year and a day. Enlisting the aid of allies, Erin maintains a vigil, turning back hunters and predators who might harm Nechtan in the wilds of the magical otherworld.

But when Stangr Iron-skinned escapes his imprisonment in the River of Time, he has one thing on his mind—revenge on Nechtan. Stangr's thirst for vengeance takes him from the Seelie courts of the otherworld to the windswept Great Plains.

Can Erin find Nechtan before Stangr tracks him down? Erin beat Giwargix the Dragon-Slayer, but can she defeat a jotunn-blooded Viking impervious to blades and bullets?
Rob's Works in Progress
Sowing Spring's Wrath (3,213)
Farewell, My Ugly (58,812)
Rick Blaine (8,845)
The Feasting of Vengeance (3,405)
The Wordbringer (3,082)
Tracked Items
Today's Weight: 341.8
Updated Word Count: 60,381
Firehall Sagas Archives: 737 entries
Let me know if you have any suggestions on the website, this email, or cool story ideas at
rob@robhowell.org
. Especially let me know of suggestions you have for the Spotlight section.
Have a great week, everyone.
Rob Howell
Creator of the Firehall Sagas Universe