Week 7 of 2023

Things got loud in my neck of the woods Sunday night. Congratulations to Chiefs Kingdom for winning the Super Bowl, and thank goodness it wasn't the Eagles.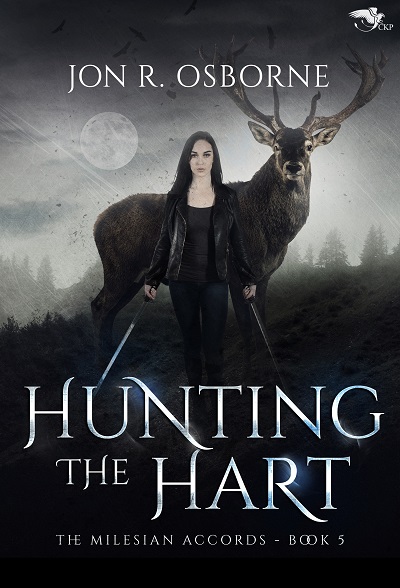 I have a few small details and Bonds of Valor will be done. All the proofreading, editing, and arranging is done. Just waiting on a couple of things and it's out the door.
I also finished my edits of The Eyes of a Doll. That went to some alpha readers this week, so it's getting closer.
I started on Where Now the Rider this week. I'm about ten percent done with it, so good progress already.
The big news this week is the upcoming release of Jon R. Osborne's Hunting the Hart, book 5 in his excellent modern fantasy series, The Milesian Accords. This comes out on Tuesday, the 21st. The blurb, by the way, is down below in the New Mythology section.
By the way, subscribers to my Patreon have already gotten the first couple of chapters. Weeks I don't have riddles will have chapters of upcoming works, and I don't charge for these snippets. They're a bonus on top of the fun riddles.
I do have some personal news, because it's really just so me. I went to the doctor this week because I strained a ligament… in my left pinkie. Yeah, that's exactly how I want to go on the DL. But here's the kicker. I strained it how you'd expect, if you know me well enough. Yes, I strained it somehow while asleep.
I'm really something impressive, aren't I? And with that, time to do some bediting. Hopefully, I don't have to go to the doctor tomorrow.
What I'm Listening To
I've been enjoying Time Team of late, and in this episode, they're looking for English Civil War artifacts. If you like archaeology, which of course I do, I suggest you watch this show.
Quote of the Week
Happy birthday to Edgar Bergen, and of course, Charlie.
Hard work never killed anybody, but why take a chance?
– Edgar Bergen
Rob's Riddles

I have a Patreon where I write Old English style riddles and provide snippets of my work. You can find it here: patreon.com/rhodri2112, along with a sample riddle.
First Line of Next Riddle:
I live in the ground                   but my greatest is high above
Latest Snippet: Chapter 2 of Hunting the Hart, by Jon R. Osborne.
New Mythology Works in Progress
Hunting the Hart is the next new release, coming out on February 21st. This is book 5 in the Milesian Accords by Jon R. Osborne, and here is it's blurb:
Magic has returned to the world, but so has an ancient foe.
Erin Donnelly, descendant of Cu Chulainn and Champion of the Folk, searches for Nechtan—her lover cursed to live as a stag for a year and a day. Enlisting the aid of allies, Erin maintains a vigil, turning back hunters and predators who might harm Nechtan in the wilds of the magical otherworld.

But when Stangr Iron-skinned escapes his imprisonment in the River of Time, he has one thing on his mind—revenge on Nechtan. Stangr's thirst for vengeance takes him from the Seelie courts of the otherworld to the windswept Great Plains.

Can Erin find Nechtan before Stangr tracks him down? Erin beat Giwargix the Dragon-Slayer, but can she defeat a jotunn-blooded Viking impervious to blades and bullets?
Rob's Works in Progress
Sowing Spring's Wrath (3,213)
Farewell, My Ugly (58,812)
Rick Blaine (8,845)
The Feasting of Vengeance (3,405)
Tracked Items
Today's Weight: 342.0
Updated Word Count: 103,679
Firehall Sagas Archives: 737 entries
Let me know if you have any suggestions on the website, this email, or cool story ideas at
rob@robhowell.org
. Especially let me know of suggestions you have for the Spotlight section.
Have a great week, everyone.
Rob Howell
Creator of the Firehall Sagas Universe