Week 31 of 2023

Greetings all
I'm at Pennsic! The shop is set up and I've been selling. Going to be a fascinating year as this is Pennsic 50.
I had a great week. Obviously, it's been a week or so since A Lake Most Deep, book 1 of the Firehall Sagas, came out. Thanks to all who helped, including especially Larry Correia, for contributing to such a great release.
You can get it here, by the way: amazon.com/dp/B0CCKVLPBL.
It was a bit challenging to keep abreast of comments and other things on social media as I literally got on the road on release day. However, it meant that at stops I had the pleasant task of checking and answering. Again, thanks very much.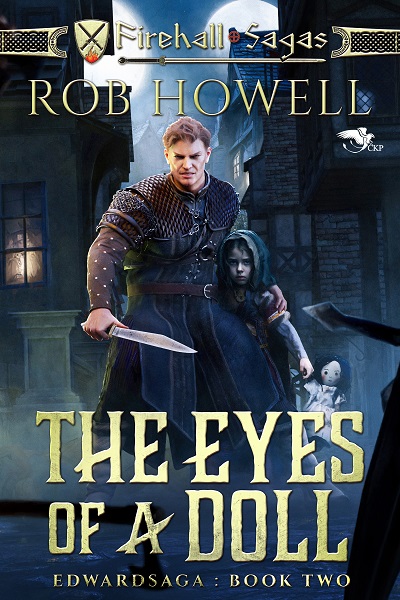 Of course, at New Mythology, we set things up so we put out a bunch of books in a series in quick succession, so today I'm giving you the cover reveal for book 2, The Eyes of a Doll, which comes out on August 29th.
Jake has done a great job again on this cover and I'm honored to get to work with him.
As mentioned, I left for Pennsic last week and was setting up Friday afternoon. For a variety of reasons, setup this year was particularly hard and complicated. I didn't really recover until yesterday morning, in fact, though part of that was the effort to run and clean up my yearly bardic circle.
However, I'm here at the shop now, fully operational and selling like a madman.
As you can see, I have books, including more on the shelf perpendicular to the main table, pottery from Lobster Rose pottery, looms, yarn, and even some wooden folding chairs.
A goodly selection, if I do say so myself.
I've gotten a bunch of editing done on Farewell, My Ugly, plus some quasi-outlining I hope to write tomorrow during the slow times. Overall, I've made good progress on the book given the challenges, and I'm excited how it's going.
And in fact, I'm going to throw some words on the page now.
What I'm Listening To
Conversations in the merchant area as I sit here inside my tent.
Quote of the Week
Happy birthday to Ernie Pyle!
"I love the infantry because they are the underdogs. They are the mud-rain-frost-and-wind boys. They have no comforts, and they even learn to live without the necessities. And in the end they are the guys that wars can't be won without."
– Ernie Pyle
Rob's Riddles

I have a Patreon where I write Old English style riddles and provide snippets of my work. You can find it here: patreon.com/rhodri2112, along with a sample riddle.
First Line of Next Riddle:
I am a king      Conquering all before me
Latest Snippet: Chapter 2 of A Lake Most Deep
New Mythology Works in Progress
Of note, this now includes our recent releases, so if you're not sure what we've put out lately, you can go here and check.
Rob's Works in Progress
Sowing Spring's Wrath (3,213)
Farewell, My Ugly (77,112)
Rick Blaine (8,845)
The Feasting of Vengeance (3,405)
Tracked Items
Today's Weight: 352.0
Updated Word Count: 207,866
Firehall Sagas Archives: 743 entries
Let me know if you have any suggestions on the website, this email, or cool story ideas at
rob@robhowell.org
. Especially let me know of suggestions you have for the Spotlight section.
Have a great week, everyone.
Rob Howell
Creator of the Firehall Sagas Universe