This week's interview comes from Kit Daven who I met at Ad Astra a few years ago. I was invited to go to it by my friend Pasi who ran the con suite and I'm really glad I did. I met a bunch of great people, including, as you'll see, Kit.
Kit Daven Interview
What is your quest? As a writer, my current quest is rooted in the exploration of fictional narrative, primarily novels and short stories. In my youth, I spent many years exploring poetry and short fiction, published my own zines, and attempted several longer works, including an unfinished, abandoned epic fantasy. The maze of fictional narrative is vast, and the paths to be taken many. Here are some of the authors who have stood at pivotal intersections and either handed me a power key or pointed the way.
Roald Dahl was the first to hand me a golden ticket and lead me to the entrance of the maze. In the earliest turns and bends, C. S. Lewis pointed out the rabbit holes and mirrors, and Astrid Lindgren provided me a young companion, a strong girl with carrot-coloured pigtails, who took me in a little deeper. From imaginative hallways down into dark tunnels, Edgar Allan Poe showed me mood, atmosphere, and mystery. H. P. Lovecraft showed me that the unknown and the ambiguous could be effective, and William Hope Hodgson made the sea forever creepy. Later on, a young man in a possessed car drove me a good distance with Stephen King, from whom I learned that in-depth characterization can be done without putting a reader to sleep. William Blake showed me how to develop my own eclectic rhythms and that without self-publishing his work, no one would know his writing today. Tanith Lee pointed the way to the flat earth, where I explored style and concision and how to bend fairytales and myths. Douglas Adams showed me you can be funny and smart at the same time. There have been other writers across the mediums who have been influential, all noteworthy yet too many to list. Recently, I took a turn at George RR Martin and am exploring world building in more depth.
All of them have been teachers. All of them have told me, "Go forth but beware trolls!"
What is your favorite color? Purple. My favourite colour is always purple.
Experimentation is an important aspect for my stories. I tend to start with rules and see how I can bend them. One rule in particular was quite fun to play with while writing A Xiinisi Trilogy. The rule goes like this: unnamed characters shouldn't be given dialogue. So, I went ahead and gave the occasional unnamed character dialogue, by putting it in italics. I made sure there were several background characters available to chime in on whatever was happening, offering three to four bits of dialogue that acted together as a beat in the narrative. I did this sparingly throughout each novel to great effect.
Who does she think she is?
You can't do that.
Hack!
Rules Schmules! I learn them mostly to break them, then I play with them until they cry.
When it comes to characters, I love creating foils, because like real people, they want to show you how they see themselves. A foil, however, peels away that veneer and shows you what they are like beneath the surface. In The Forgotten Gemstone, the main character Ule is hungry and tired. She has been invited to sit by a fire where she patiently listens to stories told by a boy. The boy offers her what he's been cooking over the fire, and after she discovers she's nearly eaten a roasted spider, she storms off into the desert in a temper tantrum. At this point in the narrative, she's not as mature as she likes to think she is.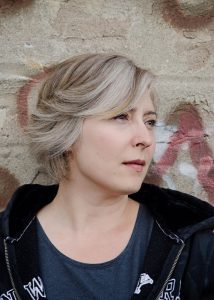 In general, I really love to listen to what the story wants, how it wants to be told and presented. A project that I've been working on for a couple of years has been calling out for multiple POVs. When I mean multiple, I mean every character will get at least one turn in contributing to the narrative. I'm not sure how to present that yet, but I'll figure it out.
Oh, and I love the colour orange, too.
What is the average flying speed of an unladen paint brush? (What are some of the challenges you've faced that have frustrated you? Maybe some creative failures that you've learned from)
The biggest challenge I face is rooted in a huge fail on my part. I quit writing for many years over a decade ago. I'd quit before, but this last time was for good. I was writing straight literary fiction, and I crashed into this wall. I'd get dry tongue when I sat down to write. My body would vibrate and not in a good way. I used to love poetry but couldn't bring myself to write it anymore, because my favorite pieces elicited zero response from readers. My readers (mostly family and friends) liked the literary stuff. It was good, never great. Then, I decided to try a new approach, and I found this beautiful intersection of writing from both my heart and my mind. However, the reactions I received were ones of discomfort and I often heard, "I couldn't say that." At the time, I interpreted these reactions as negative responses.
No longer enjoying the process, I gave up. I stopped writing fiction. I stopped reading. I must have purged a couple hundred books out my library and got them down enough to fill two tall bookshelves, then channeled my creative energy into art. It was, at that time, the right thing to do and a huge relief. Later, however, I realized being a writer is very much a part of who I am, whether I like it or not. To reintroduce myself to the subject, I began reading online about writing and writers and discovered something interesting. Those reactions my readers had all those years ago were, in fact, progress, but I hadn't recognized it at the time.
The first challenge was to get my writing skills back up to where they were before I quit. So I decided to dive into writing a novel and completing it By Any Means Necessary. That novel turned into a trilogy, and not only has my skill level returned, but I've leveled up. The second challenge I continue to struggle with is catching up on reading, especially currently published books. I'm a tortoise. I read slowly, and I write carefully, so I always feel behind the times and suspect I may never catch up to where other writers are. Doesn't mean I won't try. 😉 Who knows, perhaps with enough practice and time, I'll pick up speed.
What are the powers of your personal Holy Hand Grenade? My Holy Hand Grenade is all shiny and gold and beveled, and on each bevel is a mark: the question mark. The almighty question. That is by far my biggest power. I ask questions, a lot of them. Questions drive characters, they propel plots, they make you think, and when something doesn't make sense, I ask What's wrong? How can I make this better? Can a woodchuck chuck wood? And why am I suddenly channeling Chuck Wendig?
When I was a kid, my parents got so annoyed with my questions, they bought me an encyclopedia set. My teachers cringed when I tried to articulate questions and did their best to answer but couldn't quite grasp what I was asking. People run when they see me, because I ask hard questions, the kind that can't be answered with glib, greeting card responses. I'm a question monster, and I finally realized that my super power is, in fact, troubleshooting. I do it all the time with everything now, especially my writing.
Questions lead me down interesting rabbit holes in my narrative, and they help me get back out again when the rabbits down there want to serenade me or paint my toenails. Questions are sensitive beasts. Can I write a short story? isn't the same as How can I write a short story? One questions the writer's ability, the other questions their approach.
For the longest time, I didn't think I could write a short story. Every time I tried, it turned into a novelette or longer. The short story format eludes me most of the time, but I persisted with my questions. Then last year, for the CBC Short Story Competition, I finally wrote a legitimate short story, less than 2100 words. That in itself has been my biggest achievement lately. So, when I found out the story didn't make it to the long list or win, I honestly didn't care. I'm in the process of going over it again, making a few more changes, and then will start submitting it to other markets. Now I want to know, How long will it take until someone wants to publish it? Who will publish it? And where'd that rabbit go?
When I finish The Starry Rise, that'll be my next huge success. Not only will it complete the trilogy, it'll be a third novel under my belt, which I think is a notable milestone, and a tricky one, too. I've read a lot about writers throwing the towel in after the third book, but that isn't going to happen for me. I have too many stories I'd like to tell, too many questions to explore.
Lightning Round
What question(s) would you like to ask me?
What kinds of tactics do you use to keep yourself on the writer's path?
My Answer: I think the biggest thing is to listen to your body and see what's working. For example, I built a really good office in my basement. Then I realized I never used it. I put an office in a first floor room, and it worked well, even though I never really set it up completely. I'm excited, because as I'm moving back into the house that room will be my office from the start, meaning I can arrange it exactly the way I want.
But I've also found that I sometimes need to work in a different environment. Right now, I'm sitting in my favorite place, a bar called Brewbaker's. They have good beer, a tasty salad I really like (especially with extra jalapenos and avocado), and a tall half-booth near an outlet that is just really comfortable to me. It's been perfect, and I missed it while being in Omaha. Basically, it gets back to
the main rule: "There's one true way of writing, and it's what works for you to get words on the page." If you find you're having problems being productive in your home, go to a different room. Or go to a coffee shop. Or a bar. Or a library. Change the music you listen to. Turn it off. Turn it louder. Put sports on in the background. Or Supernatural. Or Firefly. Or whatever.
And if you're stuck on a project, start a different one. Asimov apparently had a bunch of stories/novels going on at once. When he'd get stuck with one, he'd shift to another. By the end of the year, I hope to have built that process up so I can get more than a couple of short stories each year to go along with 2-3 novels. For me, if I know what a chapter/scene will be, i can write the first draft pretty quickly. If I'm fighting one novel, going to a short story can let my backbrain come up with the next set of scenes or vice versa.
Basically, if you're stuck in a rut, change something. Anything.
Tell me again where we can find your stuff?
And Where can we find you?
Final question for you: What should I have asked but did not?
You should have asked, "What is A Xiinisi Trilogy?"
A Xiinisi Trilogy follows the adventures and misadventures of Ule, a trans-dimensional world builder with the ability to manipulate matter and energy, including her own body.
The first book, The Forgotten Gemstone, is primarily a fantasy, in which Ule finds herself trapped in a world she created and must find a way back to her realm. In doing so, she discovers an unprecedented phenomenon, the presence of demons. In the second book, The Other Castle, the story takes on a more violent and mysterious tone when Ule discovers she's been poisoned. Determined to figure out who murdered her and why, she returns in a new form, that of a man, and discovers there's more to these demons than she first thought. And in the third book, The Starry Rise, fantasy segues into science fiction and a bit of cosmic horror as Ule embarks on the last leg of her journey, during which she figures out why the demons are there and her true calling as she undergoes her final transformations. The trilogy explores themes of self-identity, transformation, the shadow self, and finding purpose. Also, it is queer friendly.
You should have also asked, "Do you have any sample fiction of your work available online?"
Why yes, Rob. Yes, I do.
And, jeez Rob, why didn't you ask, "When is the third book in A Xiinisi Trilogy coming out?"
The Starry Rise is coming out in Late Summer/Autumn 2018.
Author Biography
Kit Daven is a long time writer but has only started promoting herself as an indie writer in the latter part of 2013. To date, she has published the novels The Forgotten Gemstone and The Other Castle, the first two installments in A Xiinisi Trilogy, through her author press Eager Eye Books. She enjoys writing along the darker spectrum of fantasy, and blends her fiction with science fiction, suspense, adventure, horror, mystery, and romance. Weird tales are her favourite kind of story. She resides in Cambridge, Ontario.
---
Thanks for reading. If you're interested in any of the other interviews I've done, you can find them all here: https://robhowell.org/blog/?cat=326.
If you are a creator, especially an independent creator, and you want to be spotlighted in a future interview, email me at rob@robhowell.org.
Also, if you want to join my mailing list, where I'll announce every interview, as well as what's going on in my life, go to www.robhowell.org and fill out the form (Name and Email Address) or drop me an email and I'll add you.