Greetings all
One of the most intimidating moments I've had so far as a writer came at Constellation in October last year. I was on a panel of writing military science fiction. What was intimidating was that Orson Scott Card was to my right and David Drake was too my left.
Wowza.
Anyway, there was a fourth member of that panel, Michael J. Allen. In truth, I think we both did pretty well. We each made a point or two, but we were also both smart enough to learn from the rock stars.
Interview: Michael J. Allen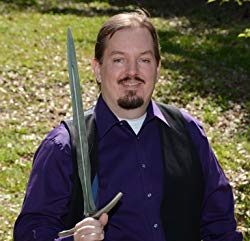 What is your quest?
I'm searching the Nothing looking for the Awesome. In his online classes on creative writing, Brandon Sanderson teaches there's always room for more awesome.  I strive to create stories that match what I'm looking for in the bookstore. I love old things made new, creating elements everyone knows with a twist mixed in with something new to create (I hope) the awesome.
What is your favorite color?
My favorite color would have to be silver. As before, I endeavor to make new from old in a way that is understandable. I want the logic to be consistent. In an upcoming release I created a world guarded by phoenixes, but I wanted every element represented, not just fire. That meant figuring out what a water or a life based phoenix might rise from if killed. So for something like a modern day water phoenix to rise from her essence, she might have to watch tearjerker movies in her nest to build up enough tears to be reborn.
What is the average flying speed of an unladen paint brush? (
Plaid of course. I come from a hard work equals success background, all measurable and quantitative. As a writer the equation ceases to be linear. A constant frustration in my writing career revolves around reaching the success rate my old world brain tells me I should be making in this new world as an author.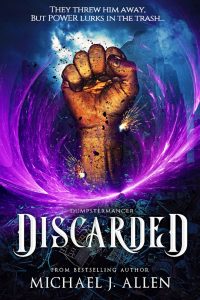 What are the powers of your personal Holy Hand Grenade?
When discharged, my hand grenade creates a swirling rainbow vortex straight into fairy land, summing thousands of flesh eating sprites—talk about tasted by the rainbow.  If I had to pick one technique I use well, it would be bringing dialogue to life. I admit I worry sometimes that my stories contain too much dialogue, but it comes so naturally once I've figured out the internal/external goals, motivations and conflicts of a given character. A story is about people, and making the people real required them to be as fully formed in my imaginary world as you or me…probably more you.
Lightning Round
Favorite Muppet? Animal came to mind first, and who doesn't want to live without bothering to filter or apply self control., but as I started to answer I remembered Grover from Seseme Street, a kind goofy guy who happens to be a bumbling superhero reminiscent of The Greatest American Hero.
Crunchy or Creamy? That's a rather personal question, don't you think?
Cake or Pie? Pie, one to the face is a hell of way to win a planet from the Klingons (See "How Much for Just the Planet" by John M Ford)
Lime or Lemon? Lime, the overlooked but sweeter infiltrator from the citrus regime.
Favorite Chip Dip?  It depends on who's in the tub with me.
Wet or Dry? The night was sultry.
Favorite Musical Performer We've Never Heard Of?  Danny Kaye, though you probably would know who he was if you saw him. (Rob's Note: This isn't terribly surprising given Michael's sartorial style. He is always very well dressed. Maybe not as nice as my Rush t-shirts, but worthy of the Danny Kaye style)
Whisky or Whiskey? Rum, the only drink for a pirate.
Favorite Superhero? Greatest American Hero/ SuperGrover
Steak Temperature? Medium Rare and damn the consequences!
Favorite 1970s TV show? Battlestar Galactica
Winter, Spring, Summer, or Fall? Winter, it's damned hot in the south.
Favorite Pet?   I've had a lot of dogs over my life, so that's a hard choice. She's not the best behaved of all the dogs I've trained, but my black lab Magesty is a dyed in the wool cuddler.
Best Game Ever? Wing Commander: Privateer (or its spiritual progeny Elite Dangerous)
Coffee or Tea? Choosing between tea and not tea, always choose the tea.
Sci-Fi or Fantasy?  Science fiction, you can have all the same wonder, magic and weird races as with fantasy, plus a bunch of cool toys everyone can play with—well, okay. Some fantasy might have better toys.
What question(s) would you like to ask me? 
Who was the professional author you wanted to meet most and how'd the meeting go (assuming you're not still stalking)?
My Answer: Well, without a Tardis or something like it, I can't meet any of the authors I really want to meet. Tolkien would be fun, especially if we could break down the Finnsburh Fragment and Episode together. I would love to talk language choices with Raymond Chandler and Dashiell Hammett. I'd really like to meet the writer of Beowulf and hear him perform it. Same for Homer.
If we're talking people who are actually alive today, then I've been lucky enough to meet most of them. David Drake, I mentioned above. I'm met David Weber, Larry Correia, John Ringo, and a bunch of other Baen authors at LibertyCon. All of them have been generous with their experience to a fledgling writer such as myself.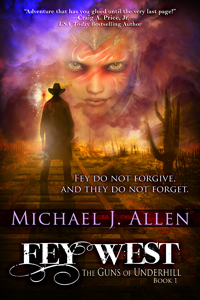 Tell me again where we can find your stuff? (All the web presence you'd like me to link to)
And where can we find you? (Events and cons you're scheduled to attend)
July 26 through 29 Raleigh Supercon
August 30 through Sept 3 DragonCon
Also, I have two new releases.
Do you have a creator biography?
Michael J. Allen is a bestselling author of multi-layer science fiction and fantasy novels. Born in Oregon and an avid storm fan, he lives in far too hot & humid rural Georgia with his two black Labradors: Myth and Magesty. Warped from youth by the likes of Jerry Lewis, Robin Williams, Gene Wilder and Danny Kaye, his sense of humor leads to (in order) occasional surrender, communicable insanity, a sweet tooth and periodic launch into nonsensical song.
Fresh out of teenagers, his days are spent writing in restaurants, people watching and warring over keyboard control with the voices in his head.  On those rare breaks from his highly contested ​102-key self-therapy ​program, he can be found​ experimenting in the kitchen, enjoying bad Sci-​Fi movies, playing D&D or the occasional video game, getting hit with sticks in the SCA or hanging out with the crew of Starfleet International's U.S.S. DaVinci.​He's great at remembering names – if they're fictional, and knows basically nothing about music.
To learn more about Michael, check out his website at www.deliriousscribbles.com
Final question for you: What should I have asked but did not?
The same question I asked you. Which pro did I want to meet most? For me, unfortunately, it was Terry Pratchett, and I was not fortunate enough to make his acquaintance. (Rob's Note: He would indeed have been fun to meet, especially tossing ideas back and forth)
---
Finally, let me know any suggestions or comments you have about this interview format so I can keep tweaking it.
Thanks for reading. If you're interested in any of the other interviews I've done, you can find them all here: https://robhowell.org/blog/?cat=326.
If you are a creator, especially an independent creator, and you want to be spotlighted in a future interview, email me at rob@robhowell.org.
Also, if you want to join my mailing list, where I'll announce every interview, as well as what's going on in my life, go to www.robhowell.org and fill out the form (Name and Email Address) or drop me an email and I'll add you.