Week 40 of 2022
Greetings all
Over the next two weeks we have books coming out that have some of the best cover art I've yet seen. They can't both be my favorite, so I'm struggling which to pick.
You tell me. Which one do you all like better?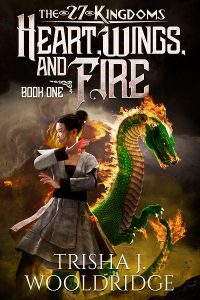 Heart, Wings, and Fire starts a new series, the 27 Kingdoms, and starts it off with a bang. The story includes a princess fighting her way to freedom and find her true past.
The cover art for this was done by J Caleb Designs, who's done a bunch for us in the past.
A Murder of Wolves is the 9th title in the Eldros Legacy and is by Jamie Ibson. CKP readers know Jamie well, especially from the fun We Dare anthologies he edited. This cover was done by Laercio Messias.
You might recognize his style from the cover of The Chimera Coup, by Christopher G. Nuttall, which came out last week. Because I like vaguebooking, not only has this release gone extremely well, there's more fun stuff in the works in this universe.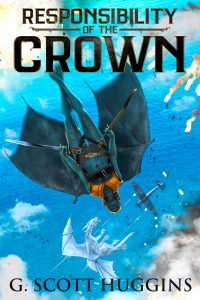 This week, I finished my edits on Responsibility of the Throne, which is the sequel to Responsibility to the Crown. G. Scott Huggins is one of the most talented writers out there, and you're going to love this book.
This weekend is going to be a football weekend for me. My sweetie is off to see her mother and some relatives for a quilting retreat and the house is mine, all mine! I'm watching every football game I can.
Time to go make food that's far too spicy for my sweetie to like it.
What I'm Listening To
I'm on another of my every so often listen to all the Rush. Currently, it's Subdivisions, which was one of the most important songs I heard growing up.
Quote of the Week
Happy birthday to Miguel de Cervantes Saavedra. May you all have some windmills worth tilting at.
"Look there, Sancho Panza, my friend, and see those thirty or so wild giants, with whom I intend to do battle and kill each and all of them, so with their stolen booty we can begin to enrich ourselves."
– Miguel de Cervantes Saavedra
Dudes In Hyperspace

Follow the Dudes In Hyperspace here:
bleav.com/shows/the-dudes-in-hyperspace-podcast/
We answer a bunch of user questions in the latest show.
New Mythology Works in Progress
2023 FantaSci Short Story Contest open call.
The theme is Bonds of Valor, and you story must include deeds of valor centered around bonds between characters. This could be a romantic relationship, a buddy adventure, oaths to kings, or whatever you can come up with.
Deadline: November 30th, 2022
Word Count: 7-10,000 words
Specifics: Times New Roman, 12 point font, 1.5 line spaced.
Rob's Works in Progress
Sowing Spring's Wrath (3,213)
Farewell, My Ugly (23,151)
Rick Blaine (8,845)
CB (8,418)
The Feasting of Vengeance (3,405)
Tracked Items
Today's Weight: 330.0
Updated Word Count: 158,132
Eldros Legacy Archives: 813 entries
Let me know if you have any suggestions on the website, this email, or cool story ideas at
rob@robhowell.org
. Especially let me know of suggestions you have for the Spotlight section.
Have a great week, everyone.
Rob Howell
Founder in the Eldros Legacy series