Week 49 of 2022

Greetings all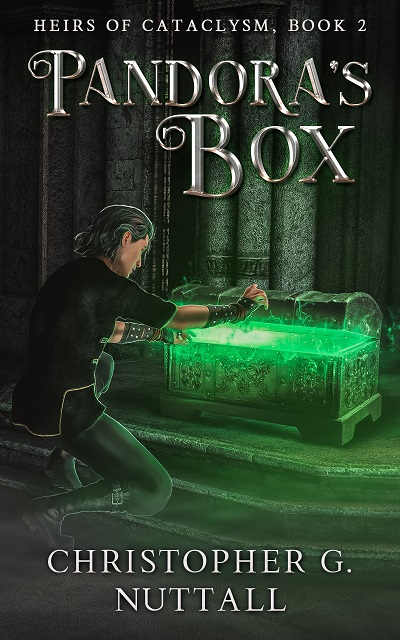 We have a new release announcement this week! Pandora's Box, book 2 of Christopher G. Nuttall's Heirs of Cataclysm series, will come out on December 20th!
Here's the amazing cover, again done by Laercio Messias.
It's not just a box, it's an ancient weapon capable of destroying entire cities.

Deep within the badlands, warped and twisted by tainted magic and weirdlings, the box was discovered by archaeologists secret wisdom lost in the Cataclysm. Those who found it are selling it to the highest bidder. If it falls into the wrong hands, their fragile civilization's uneasy peace will be shattered once and for all.

John, along with his fellow adventurers, are hired to steal this ancient artifact so it can be safely destroyed. But stealing it is one thing, surviving it is another.

Everyone is after them and they're on the run, a bounty on their head so large every mercenary, rogue, and even old friends are willing to risk death to claim it. 

And nothing is quite what it seems.
And in order to make it easier for you to buy it as a present for yourself or someone dear to you, we're going to do something we rarely do. It's up for pre-order here: amazon.com/dp/B0BNPQ61DX.
You can get it just in time for Christmas Day.
This is what I spent Thanksgiving working on to the exclusion of most everything else. We really wanted to make sure you guys could have it for the holidays. Thanks to Chris, Laercio, Tiffany, and Zach for jumping up to make it all happen so quickly.
On to my plans for the weekend. I'm spending it at Midwest Gahttps://www.amazon.com/dp/B0BNPQ61DXmeFest, my first time there. I'm looking forward to it. Hopefully, there'll be a ton of sales, some gaming, and a great chance to meet people.
If you're in the KC area, come on out.
Also this week, I laid the groundwork for a whole bunch of stuff related to the Firehall Sagas. Because of the reveal of Pandora's Box, I'm going to save my reveal of the new logo and banner until next week, but suffice to say it's awesome. Thanks to Fritz Fotovich for working with me on that.
I did take time to watch the US beat Iran in the World Cup. On to the elimination round of 16, lads! Side note: On November 30th, 1872, England and Scotland played the first ever international soccer match. Happy 150th, international soccer!
With that, I probably better get all my packing done for the event this weekend. Have a great weekend, wherever you end up.
What I'm Listening To
The next door neighbor's dog barking. Oddly, this afternoon I worked without music or watching anything. That's very strange for me. I usually have to have something playing.
Quote of the Week
Happy birthday to Rex Stout. Here's a quote that really suits me, as I am not an "early to rise" kind of guy.
New Mythology Works in Progress
Giveaways
None this week, but a bunch next week.
Rob's Works in Progress
Sowing Spring's Wrath (3,213)
Farewell, My Ugly (57,230)
Rick Blaine (8,845)
CB (8,418)
The Feasting of Vengeance (3,405)
Upcoming Events
Midwest Game Fest, 1-4 December, Independence, MO, midwestgamefest.org/kansascity
MarsCon, 13-15 January, Virginia Beach, VA, marscon.net/wp/
Planet Comicon, 17-19 March, Kansas City, MO, planetcomicon.com/
New Releases
Out this week is An Act of Aggression, by Alex Rath. It's the 3rd novel in his Terran Space Project. Get it here: amazon.com/gp/product/B0BN5B7GRF.
We have two pre-releases this week. First is William S. Frisbee, Jr's Revolution Calling. This is book 4 in his Last Marines series. Get it here: amazon.com/dp/product/B0BNMGNQ46.
And then, of course, we have Pandora's Box from Christopher G. Nuttall. This is book 2 in his Heirs of Cataclysm series. You can get that one here: amazon.com/dp/B0BNPQ61DX.
Tracked Items
Today's Weight: 334.0
Updated Word Count: 424,875
Eldros Legacy Archives: 813 entries
Let me know if you have any suggestions on the website, this email, or cool story ideas at
rob@robhowell.org
. Especially let me know of suggestions you have for the Spotlight section.
Have a great week, everyone.
Rob Howell
Creator of the Firehall Sagas Universe