Week 52 of 2022

Greetings all
Happy holidays! May you and your family have an awesome season.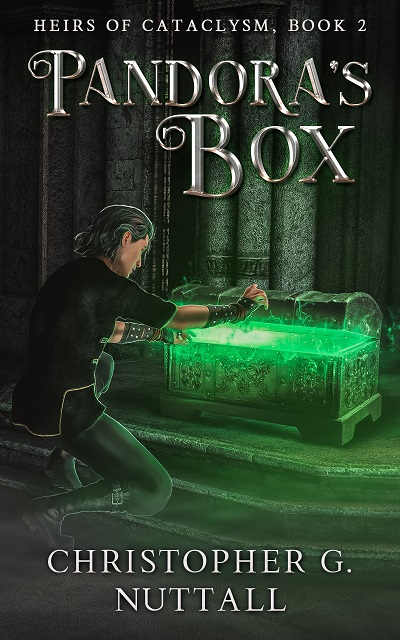 Our gift this week has been the release of Pandora's Box. It's gone very well so far, and I'm so honored to be a part of it. Get it here: mazon.com/gp/product/B0BNPQ61DX.
Haven't read it or The Chimera Coup, book 1 of the Heirs of Cataclysm yet? They're post-magical apocalypse swords and sorcery with lots of action, intrigue, and great characters.
Get the series here: amazon.com/dp/B0BFLWPL5N.
I've spent this week editing. I'll be done with A Lake Most Deep next week. I'm mostly done with the initial pass, but I need to do a bediting pass. It's much, much leaner and stronger.
I also did some editing on the stories for Bonds of Valor. I'm a bit behind this year because of events, but I'll get half of them done next week.
I also spent a bunch of time cleaning up a  number of housekeeping things and doing foundational work. I'm essentially re-booting my entire career in 2023, and I'm fixing as many small issues here and there. I'm excited about all.
One thing I'm going to start pushing is Twitter. I'm @Rhodri2112 there, and over the next couple of years I'm going to transition away from Facebook.
Speaking of excited, I will have a number of exciting items in next week's update. I'll have the website ready for the Firehall Sagas and an extra special sooper-sekret thing I've been working on.
This last bit is something I've wanted to do for a while, and it dovetails nicely with a lesson I learned at 20Books.
Meanwhile, I'm looking forward to seeing the parents for Christmas this weekend. I hope you all have a great time with your family and friends. Be well, everyone.
What I'm Listening To
The Jets vs. the Jaguars. It's nights like this, cold and rainy in New York, that I'm glad I didn't actually play football.
That being said, today had some interesting news. NFL Sunday Ticket will finally move from DirectTV, which was an awful provider, to YouTube TV, which isn't my preference, but certainly a major step up. I'm curious what that will cost.
Quote of the Week
Today is the anniversary (or at least one possible one, there are questions) of the death of Emperor Vitellius. He was not a terribly notable emperor, ruling only about 8 months.
However, an antiquarian named Robert Bruce Cotton during Elizabethan times collected every ancient manuscript he could. He organized them on bookcases that each had a bust of a Roman Emperor. On the Vitellius bookcase, he put the Nowell Codex on the first shelf (A) and set it as the 15th (xv) manuscript on the shelf.
Hence, the Nowell Codex became known also by its catalog number as Cotton MS Vitellius A XV. It also happens to be one of four major extant collections of Old English poetry.
It includes the only copy of Beowulf to survive, and that was a close-run thing. In 1731, the repository for his library was Ashburnham House, and it had a fire that destroyed a number of manuscripts. The Nowell Codex was damaged, and there's a burn mark of a poker that makes portions of the last few sections of Beowulf unreadable.
I don't need much of a reason to celebrate the poem, so here's my favorite line. And that's why I'll never forget Emperor Vitellius.
Deað bið sella
eorla gehwylcum
þonne edwitlif
Death is borne better
By every soul
Than a life of shame
– Beowulf, line 2890b-2891.
Dudes In Hyperspace

Follow the Dudes In Hyperspace here:
bleav.com/shows/the-dudes-in-hyperspace-podcast/
We give our swan song in a truly dude-tastic show. We're taking a break, though don't be surprised we have episodes coming occasionally down the road. Also, I've developed a taste for podcasting, so who knows what will happen.
New Mythology Works in Progress
Giveaways
Rob's Works in Progress
Sowing Spring's Wrath (3,213)
Farewell, My Ugly (58,812)
Rick Blaine (8,845)
The Feasting of Vengeance (3,405)
Tracked Items
Today's Weight: 335.2
Updated Word Count: 427,484
Firehall Archives: 742 entries (I cleaned out a number of Eldros Legacy items, part of the housekeeping I mentioned up above).
Let me know if you have any suggestions on the website, this email, or cool story ideas at
rob@robhowell.org
. Especially let me know of suggestions you have for the Spotlight section.
Have a great week, everyone.
Rob Howell
Creator of the Firehall Sagas Universe