Week 34 of 2023

Greetings all
It's been a hectic week. I spent a goodly amount of it in North Dakota with family. There was more than a little cuteness with a grandbaby and a kitten, but a bunch of stuff to do.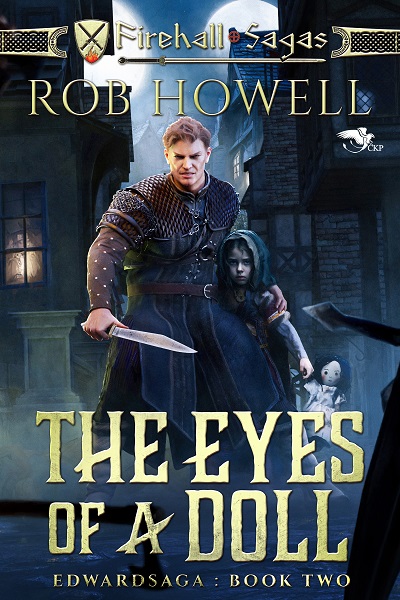 It was so busy I barely mentioned my new release. Last Friday, Imagine That!, the new collection of postcard nanostories released by Raconteur Press, came out. You can get it here: amazon.com/dp/B0CFX7XPPW.
I've also hardly mentioned that The Eyes of a Doll, sequel to A Lake Most Deep, comes out next Tuesday. How did it get to be late August already?
Nevertheless, the Firehall Sagas continues! The Eyes of a Doll does come out in only 5 days. Edward is back and all he has to do is retrieve a lost doll. Nothing could go wrong with that, right?
And if you want the first in that series, A Lake Most Deep, you can get it here: amazon.com/dp/B0CCKVLPBL. Following that, by the way, will be Where Now the Rider, coming out on October 3rd.
I'm getting back into the groove finishing Farewell, My Ugly. About all I could do during much of the recent traveling was editing it, so I'm farther along on that than I normally in, but behind on the new content. I'm actually down on my count from last week, cutting several thousand wasted words out, but I expect to get those back tomorrow or the day after.
I have a number of other irons in the fire right now, but I'm still recovering from a month on the road, so for now, I'll wish you all a good week.
What I'm Listening To
The Steelers v. the Falcons in preseason. Football is almost here, baby!
Quote of the Week
Happy birthday to Stephen Fry!
"You are who you are when nobody's watching."
– Stephen Fry
Rob's Riddles

I have a Patreon where I write Old English style riddles and provide snippets of my work. You can find it here: patreon.com/rhodri2112, along with a sample riddle.
First Line of Next Riddle:
I am a king      Conquering all before me
Latest Snippet: Chapter 2 of A Lake Most Deep
New Mythology Works in Progress
Of note, this now includes our recent releases, so if you're not sure what we've put out lately, you can go here and check.
Rob's Works in Progress
Sowing Spring's Wrath (3,213)
Farewell, My Ugly (78,255)
Rick Blaine (8,845)
The Feasting of Vengeance (3,405)
And remember, The Eyes of a Doll comes out on Tuesday!
Tracked Items
Today's Weight: 356.6
Updated Word Count: 209,934
Firehall Sagas Archives: 743 entries
Let me know if you have any suggestions on the website, this email, or cool story ideas at
rob@robhowell.org
. Especially let me know of suggestions you have for the Spotlight section.
Have a great week, everyone.
Rob Howell
Creator of the Firehall Sagas Universe