What an eventful week so far!
First, I've added those who signed up at Pennsic. Many thanks for all who talked to me there, and I am already looking forward to Pennsic 47. Welcome to my weekly slice of Robness.
The biggest news is that one of the short stories I've been mentioning for a while was just accepted to be part of the For a Few Credits More, the second anthology in the Four Horsemen Universe.
The 4HU is one where humanity is one of hundreds of alien races living a loose arrangement whose sole goal is to ensure that the overall peace is maintained. Within that, however, are all sorts of smaller conflicts involving mercenaries, and the universe centers around these mercs fighting in a Byzantine universe of plotting and treachery.
I love it.
You can find these books here: https://www.amazon.com/gp/product/B074KHFMQT?ref=series_rw_dp_labf
The cover is here.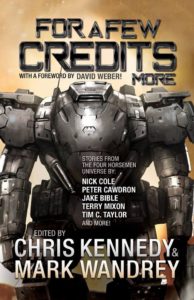 I've never been more excited to be called "AND MORE" in my life.
But that's not the only exciting thing going on here. Rob Saladino will begin recording A Lake Most Deep in audiobook form starting around 1 September. He'll be doing my other Shijuren novels soon after, too. I don't yet have any clue when actual release dates will be, because it takes time to do all of this well, but they are a-comin'.
In less productive news, because of my travel schedule, the move, and recovery from Pennsic, I've not done much other than lie in bed and contemplate bad things happening to my characters in Brief Is My Flame.
I'm just going to say that I think my characters would prefer me to sit and write than lie and plot, because I'm much nastier to them in the middle of the night snuggled in my bed with my cat sitting on my head than I am typing on my laptop. Far nastier.
Quote of the Week
This week's quote sort of encapsulates my writing philosophy. I write about people, and whether they are wizards or use fusion-powered starships or wear powered armor, stories are about people.
"War has changed little in principle from the beginning of recorded history. The mechanized warfare of today is only an evolution of the time when men fought with clubs and stones, and its machines are as nothing without the men who invent them, man them and give them life. War is force- force to the utmost- force to make the enemy yield to our own will- to yield because they see their comrades killed and wounded- to yield because their own will to fight is broken. War is men against men. Mechanized war is still men against men, for machines are masses of inert metal without the men who control them- or destroy them."
– Ernest J. King, as quoted in the prologue (page viii) of his memoirs, Fleet Admiral King: A Naval Record (1952).
News and Works in Progress
Brief Is My Flame (about 10k)
Recent Blog Posts and Wiki Additions
Nothing yet this week, but will have some additions to the Wiki tomorrow
This week's Spotlight is on Rob Saladino , who is recording my audiobooks. His IMDB page is here: http://www.imdb.com/name/nm5238545/ and his Facebook page is here: https://www.facebook.com/thehumblereview. If you go there, you'll see he recently recorded a biography about Prince. I suspect this is the closest I'll ever get to Prince.
Let me know if you have any suggestions on the website, this email, or cool story ideas at rob@robhowell.org. Especially let me know of suggestions you have for the Spotlight section.
Have a great week, everyone.
Rob Howell
Author of the Shijuren-series of novels
Currently Available Works
If you think you received this email incorrectly or wish to be unsubscribed, please send an email to shijuren-owner@robhowell.org