I met Amanda Makepeace at DragonCon, I think. Whatever con it was, we got to talking about music that combines traditional instruments and metal or punk. Dropkick Murphys, Korpiklaani, Tengger Cavalry, Tyr… Er… sorry, I got distracted headbanging.
Anyway, crank up some Turisas and take a look at the answers of a great artist.
What is your quest?
I'm a Fantasy/SciFi Artist and Illustrator, which means I create dreams and visions for myself and others. My work can be found on book covers, inside game manuals and at several southern fandom conventions (like DragonCon in Atlanta). I'm inspired by nature, mythology and what lies beyond the stars.
Sharing what I love to create with others is the most rewarding part. I have my mother to blame for this crazy adventure. One of my most vivid memories is of her drawing one of my toy dinosaurs. I started drawing not long after and never stopped.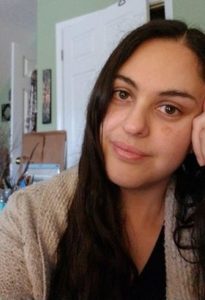 What is your favorite color?
I have soft spot for anything organic and primordial. That passion spans both my Fantasy and SciFi  art. Sometimes that applies simply to the colors I'm drawn toward; while other times, it's the main elements and subjects of my work. It's life—birth and death, creation and destruction.
What is the average flying speed of an unladen paint brush?
There was a time when I thought I had to be either a Fantasy artist or a SciFi artist—I couldn't be both. Silly idea when I look back on it now. Since unleashing them both I've been far happier and far more productive. The lesson here? Some artists work on very focused projects and it works for them. However, there's nothing wrong with being more diverse, especially if that's your calling. When you try to stifle your natural inclination you end up silencing the most important parts of you. Follow your heart.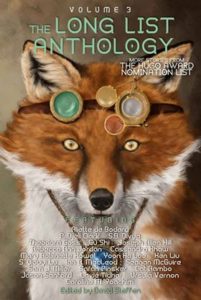 What are the powers of your personal Holy Hand Grenade?
Late last year I provided art for the cover of the Long List Anthology Volume 3, which features stories from the Hugo nomination list. (ed. note: You can find the book here) The book was recently featured in a list of anthologies on the Barnes & Noble Sci-Fi & Fantasy Blog – 10 Recent Anthologies that Show Us What SFF Can Do. It's little things like this that make my day. I'm currently working on another book cover for an anthology from the same editor.
Lightning Round
Crunchy or Creamy? – Both!
Cake or Pie? Pie. – Cake is good, but pie is love.
Lime or Lemon? – Lemon, but only if it's lemonade.
Favorite Chip Dip? – Salsa!
Favorite Musical Performer We've Never Heard Of? – I think most everything I listen to (and I have eclectic tastes) someone has heard it, but Keith Jarrett may be a bit obscure?
Favorite Superhero? – Loki. He's sometimes a hero, right?
Steak Temperature? – Medium
Favorite 1970s TV show? The Bionic Woman
Winter, Spring, Summer, or Fall? – Fall, always.
Favorite Pet? – My studio cat, Drusilla, who also acts as my creative director and overlord.
Best Game Ever? Doom
Coffee or Tea? Coffee. I like strong coffee with a lot of cream. I love lattes
Sci-Fi or Fantasy? Is this a trick question?
What question(s) would you like to ask me?

At ChattaCon we talked for a bit about music and specifically metal bands. What's a new band you've recently discovered?
My Answer: Oddly, it's not so much new bands I've been getting into, but going back into some of the ones I've loved and delving deeper into their catalogue. For example, I just bought a bunch of older Steeleye Span. I've heard most of what's on there, but I haven't heard it enough.
I've also been buying a number of compilations to, again, get myself back with some music I've liked, but didn't have on CD. I recently got a Rainbow compilation, along with a Blackmore's Night CD. I'll fill out all the Blackmore's Night stuff eventually.
Tell me again where we can find your stuff? (All the web presence you'd like me to link to)
And Where can we find you?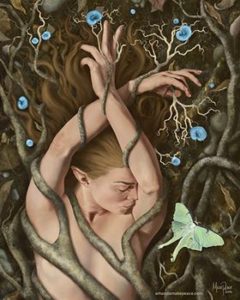 My next convention is LibertyCon in Chattanooga, TN (June 29-July 1). I'll be attending as professional, which means you can find me on the programming schedule. I'm also a part of the Art Show, where I'll have art and prints for sale. Later in the summer I'll be in the DragonCon Art Show again. I'll be selling at my table and in the gallery of the show.
(ed. note: I'll be there too. Looking forward to seeing the other 748 besides Amanda and I that will be there).
And we'll finish with Amanda's artist biography:
Amanda Makepeace is an award winning artist and illustrator. Her career in art began more than a decade ago while living abroad in the UK. In recent years, Amanda has worked with independent publishers and game companies. Her latest project was the cover art for the Long List Anthology Volume 3 – a book featuring Hugo nominated stories. She is also a regular at Fantasy and SciFi conventions in the southeast. Some of her awards include: Judges' Choice Award in the JordanCon Art Show (2015), Best Space Scene in the DragonCon Art Show (2017), and Best Professional Science Fiction in the ChattaCon Art Show (2018).
Through her art, she explores mythology, magical beings, our connection to the planet, and even distant worlds. She is a member of the Changeling Artist Collective and Co-Founder of the Bird Whisperer Project. When she's not in the studio, she can be found reconnecting with nature and the woods that inspired her as a child.
---
Thanks for reading. If you're interested in any of the other interviews I've done, you can find them all here: https://robhowell.org/blog/?cat=326.
If you are a creator, especially an independent creator, and you want to be spotlighted in a future interview, email me at rob@robhowell.org.
Also, if you want to join my mailing list, where I'll announce every interview, as well as what's going on in my life, go to www.robhowell.org and fill out the form (Name and Email Address) or drop me an email and I'll add you.