For the first quarter of 2020, my Wednesday interviews will be with authors who are part of When Valor Must Hold, the upcoming anthology of fantasy stories published by Chris Kennedy Publishing.
This week, the interview is with Jon Osborne, who I think is a rising star. His story in When Valor Must Hold is called "The Errand" and you'll love it.
Interview: Jon Osborne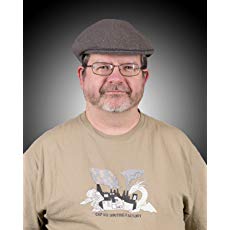 Why are you here?
My early science fiction influences are Robert Heinlein, Isaac Asimov, Larry Niven, George Lucas, and Gene Roddenberry. My fantasy influences, which came later, were Charles de Lint, Randall Garrett, Steven Brust, and Gary Gygax. More contemporary inspiration comes from the likes of Eric Flint and Kevin Hearne.
I was a gamer before a writer. I started off as a Dungeon Master because I had the rules, and storytelling became addictive. I learned from an early age that characters will not do what you expect, nor do they care about your pre-conceived plans.
The Milesian Accords wasn't a story that had been bouncing around for years. It coalesced while I was driving every week between Indianapolis and Chicago to deal with my parents' estate. The beginning and ending of the story formed right away, and the rest filled in as I wrote the story.
Describe your great Lab of Creation?
I do 95% of my writing in my home office on a sprawling, cluttered desk. When I played MMOs, I spent the bulk of my time parked in front of this corner desk, and when I transitioned to writing, I remained parked here.
I use YouTube for my background music. By and large, I listen to soundtracks. The most notable exception is the Mongolian heavy metal band The HU, and the funk band Here Come The Mummies.
I'm not a coffee drinker, so the coffee shop doesn't hold an appeal for me. I'd rather have a whisky or beer in the comfort of my home rather than sit in an establishment full of strangers.
What are your superpowers?
Based on feedback, it appears I do dialogue well. Disney, if you're reading this, I can help you out with that next Star Wars movie – you need it. I like to think I'm good at world-building – although my editors might say I get carried away – another trait from my background as a game master.
One of the things I had to overcome was my training – I majored in journalism in college, so I was taught to keep sentences short and my writing concise. Once I tried my hand at descriptive fiction, I found out I sucked at complex sentences – especially commas use. The way it sounded in my head was the opposite of how I should write. Fortunately, my publisher was a great mentor and patient with me.
What will Lex Luthor use to defeat you?
Superman has kryptonite, and I have squirrels. Staying focused is a huge challenge for me. In fact, I'm filling this out when I should be finishing a book. I've found I should keep my phone out of arm's reach, as a quick checking of e-mail or social media turns into half an hour.
One thing I regret was never learning to type. Despite majoring in journalism in high school and college, I didn't take typing classes. I mostly use my index fingers. If I typed faster, maybe I could keep up with my brain.
Lightning Round
Favorite Muppet? Animal
Favorite Musical Performer We've Never Heard Of? The Hu
Favorite Superhero? Wolverine
Favorite 1970s TV show? Battlestar Galactica
Favorite Weird Color? 633fcc
Favorite Sports Team? The Colts
Best Game Ever? D&D
Winter, Spring, Summer, or Fall? Fall
Best Present You've Ever Received? When I found my missing cat on Christmas Day
What Cartoon Character Are You? Scooby Doo
What Do You Secretly Plot? A 6 book RPG Lit series
How Will You Conquer the World? Sounds like too much work
Best Thing From the 80s? You expect me to pick one? Those were my high school and college years.
Favorite Historical Period? It depends on what Wikipedia page I'm looking at.
Most Interesting Person In History? See above.
Steak Temperature? Medium
Favorite Chip Dip?  Nacho cheese
Favorite Cereal? Captain Crunch Peanut Butter Crunch (but it's like eating peanut butter flavored gravel and will shred your mouth)
What Do You Eat For Your Last Meal? A bacon-wrapped fillet, french fries, and chili at the Ale Emporium
Beverage(s) of Choice? Beer
Do You Have Pets? No
What Question Should I Add to the Lightning Round? If you wrote under a (different) pen name, what would it be?
What question(s) would you like to ask me? What was the hardest book/story to write and why?
Rob's Answer: So far, that clearly has to be None Call Me Mother. I've been working on it for two years now, and it still isn't done. I'm getting close, but man this one hasn't gone smoothly.
Tell me again where we can find your stuff?
Facebook: @jonrosborne
Instagram: @jonrosborne
And where can we find you?
CapriCon Feb 14-16
FantaSci Mar 20-22
Do you have a creator biography?
Jon R. Osborne is a veteran gamemaster and journalism major turned science fiction and fantasy author. The second book in the Jon's The Milesian Accords modern fantasy trilogy, "A Tempered Warrior", was a 2018 Dragon Awards finalist for Best Fantasy Novel. Jon is also a core author in the military science fiction Four Horseman Universe, where he was first published in 2017.
Jon resides in Indianapolis, where he plays role-playing games, writes science fiction and fantasy, and lives the nerd life. You can find out more at jonrosborne.com and at https://www.facebook.com/jonrosborne. 
---
Thanks to Jon for taking the time to answer my questions.
If you have any suggestions or comments about this interview format, let me know so I can keep tweaking it.
Also, thanks to you for reading. If you're interested in any of the other interviews I've done, you can find them all here: https://robhowell.org/blog/?cat=326. If you are a creator, especially an independent creator, and you want to be spotlighted in a future interview, email me at rob@robhowell.org.
Finally, if you want to join my mailing list, where I'll announce every interview, as well as what's going on in my life, go to www.robhowell.org and fill out the form (Name and Email Address) or drop me an email and I'll add you.
Have a great day.
Rob Howell
Author of the Shijuren-series of novels