Greetings all
Con season is fast approaching and I can't wait to be in among my tribe. Last night, we recorded a Zoom panel for the Virtual LibertyCon. This one was about the Four Horsemen Universe and it was great. Really cool to be a part of that whole project.
Of course, one of the things I talked about is The Ravening of Wolves, which is scheduled for June 18. I hope to have these for the ConFinement 2.5 the week of Virtual LibertyCon. If not, I'll have them for Armistice.
By the way, note that new addition to the schedule! Confinement 2.5 is 25-27 June in Mount Juliet, TN. More information here: https://www.confinementcon.org/.
However, the big news is FantaSci. A week from this moment I'll be ensconced in the Raleigh-Durham airport Doubletree getting ready for an amazing weekend.
But it starts now!
Well, at 7pm Central tonight. That's when this giveaway starts: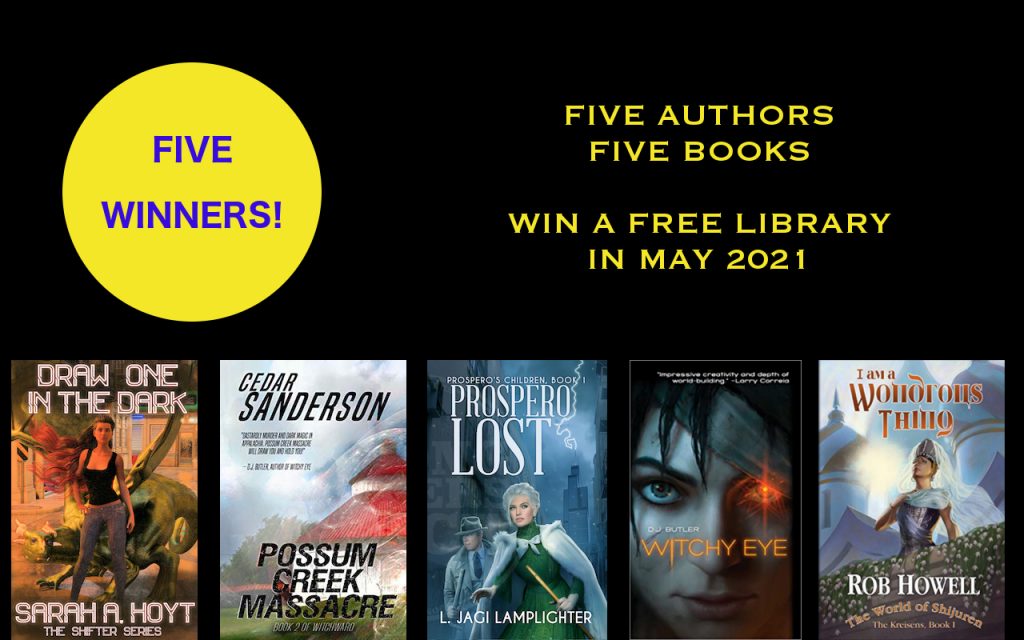 Go to http://davidjohnbutler.com/giveaways/five-books-may-giveaway/ and sign up to win all 5 of these books. Physical copies. Signed physical copies. Shipping included.
If you go to FantaSci, your chances are even higher of winning! We're reserving two of the five winners for people who are there, to celebrate them coming and seeing Dave Butler and I person. (You foolish mortals).
Thanks to Dave Butler for organizing all this.
This week, as you can expect, has been focused on preparing for the trip. However, I've been plugging away at a sooper-seekrit project that I'll have done by June 1. Then I finish a different sooper-seekrit project which will be done July 1.
But don't worry, I'll be posting some hints of a *third* sooper-seekrit project before any of that happens.
Lots of great stuff happening in Rob-land, even if I have to keep it all somewhat vague at the moment.
What I'm Listening To
Blood of Bannockburn by Sabaton. This is one of my songs I listen to when I'm walking. It's impossible not to go fast with this song.
Today is Roger Zelazny's birthday. I can't let that pass without this quote. I may read more from e-books than physical ones these days, but I, too, feel right when I'm surrounded by books.
I like libraries. It makes me feel comfortable and secure to have walls of words, beautiful and wise, all around me. I always feel better when I can see that there is something to hold back the shadows.
― Roger Zelazny, Nine Princes of Amber
New Mythology Works in Progress

Open call for the next New Mythology Anthology. We'll take the top four submissions.
Deadline: 31 July
Words: 7k-10k
Manuscript: In .doc or .docx file format, Times New Roman, 12pt, 1.5 spaced
Send To: rob@chriskennedypublishing.com
Prompt: Write a fantasy story involving a beast or monster. While the story can include elements of horror, it should not be a horror story; it should be a fantasy and lean toward the heroic. Feel free to make the beast or monster your protagonist, but if not, the creature must be a central figure, (like Grendel in Beowulf).
As mentioned, we will choose the top four stories out of those submitted to add to the anthology. This is especially aimed at newer authors, though authors of any experience can enter.
Rob's Works in Progress
CWTAE (1,701)
OPP (4,541)
Rick Blaine (8,845)
CB (8,418)
Cynewulf (8,642)
Gato (2,312)
Today's Weight: 338.8
Updated Word Count: 116,837
Shijuren Wiki: 725 entries
Let me know if you have any suggestions on the website, this email, or cool story ideas at rob@robhowell.org. Especially let me know of suggestions you have for the Spotlight section.
Have a great week, everyone.
Rob Howell
Currently Available Works
Shijuren
Nick Patara, PI

Four Horsemen Universe
The Phases of Mars
Short Stories
If you think you received this email incorrectly or wish to be unsubscribed, please send an email to shijuren-owner@robhowell.org