Greetings all
A couple of bits of big news this week. First, The Feeding of Sorrows is now available on Audible. James Patrick Cronin did a great job of bringing the Queen Elizabeth's Own Foresters to life. You can find it here: https://www.amazon.com/dp/B07T3B8BGB/.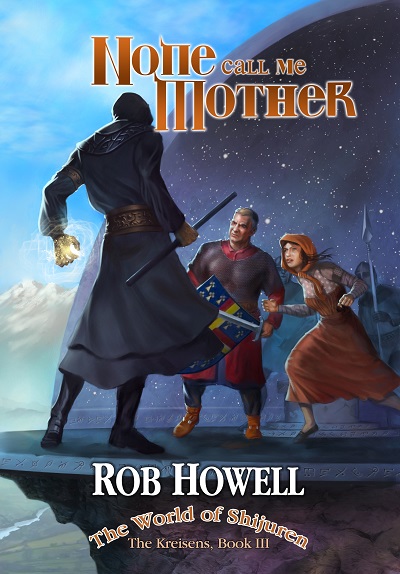 Second, I was able to reveal the great cover for None Call Me Mother. Isn't it lovely? Thanks to Patrick McEvoy for doing another great job. You can find some of his other stuff at https://www.megaflowgraphics.com/.
This has been a wonderfully productive week, as well. I haven't written a ton of new stuff, but I've been doing a bunch of pre-production for None Call Me Mother. Much of this has been focused on getting the wiki and thus the links ready for the release.
In general, I've been working on expanding the Shijuren wiki to provide more information and yet streamline it. To do this, I'm using wiki headers much more, as well as expanding my understanding of wiki formatting. The wiki is already much stronger and faster than it ever was, and the foundation is much better. You can find it here: https://shijuren.org/tiki-index.php.
I've also started some of the serious editing for the new anthology. You're going to love it, assuming of course you want action, adventure, magic, and intrigue. If you want boring stuff, read elsewhere.
While I focused on other things, I did manage to get several thousand words written. As sometimes happens, though, the first story I intended for the anthology didn't really work. Oh, it's interesting back story for Ragnar and Zoe, and you'll see it all eventually, but let's just say I'm writing about the most unlikely hero in all of Shijuren.
Well, back to work. Have a great week everyone.
What I'm Listening To
Sabaton's Panzerkampf. I love Sabaton's operatic metal fused with historial themes. It's like they said, let's make our band just for this weird guy in Kansas.
Quote of the Week
The cover to None Call Me Mother includes one of the people I red-shirted for Mar's fundraiser. Hence, I decided that I'll give you all a snippet from the novel where truth becomes fiction, so to speak.
"'Huh'," said Donnghal."
– None Call Me Mother

News and Works in Progress
The Ravening of Wolves (32,068)

CB (8,418)
RAZ (3,446
KAT (1,515)
Cynewulf (8,642)
Gato (2,312)
Recent Blog Posts and Wiki Additions
I went from 77 entries on the wiki to 104, so there are a ton of changes. I also cleaned up a number of underlying issues and added in more headers and header links. You'll see that number jump up through the end of the year.
Today's Weight: 360.2
Updated Word Count: 238,798
Shijuren Wiki: 104 entries
Let me know if you have any suggestions on the website, this email, or cool story ideas at rob@robhowell.org. Especially let me know of suggestions you have for the Spotlight section.
Have a great week, everyone.
Rob Howell
Currently Available Works
Shijuren
Four Horsemen Universe
The Phases of Mars
Short Stories
If you think you received this email incorrectly or wish to be unsubscribed, please send an email to shijuren-owner@robhowell.org