Greetings all
2021 was the biggest year of my publishing career, but I suspect I'll write the same exact words next year with all that's happening. Nevertheless, here's what I was involved in that came out in 2021: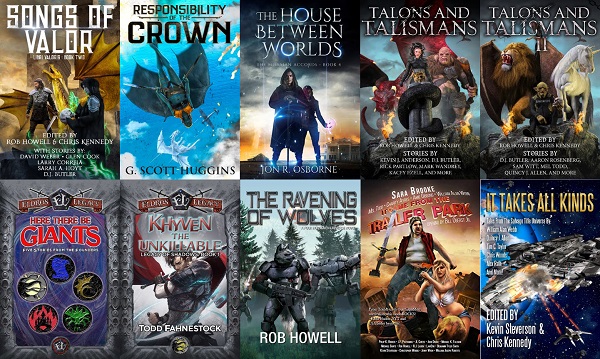 This mosaic, by the way, doesn't include stuff that'll come out in 2022 which I worked on, such as Quincy J. Allen's Seeds of Dominion, coming out on Tuesday.
By my reckoning, I put out 384,836 total words in 2021. Now, there are some statistical points to be made, out of honesty.
I only wrote 139,340 words of new stuff. That's 1 novel, and only 6 short stories.
I keep track of my blog posts too, as it's one way to ensure I'm putting out consistent content. That was 49,811.
The remaining 195,685 is 1/4 of the words in books I edited for New Mythology Press in 2021, 4 anthologies and 5 novels. I agree I should keep some track of that, as if I hadn't done all that I would have definitely written more. I'm not convinced 1/4 is the right number. I'm thinking I may go to 1/5 in 2022. We'll see.
Still, any way you want to stack it, that's not a bad year. Add on to that I spent many hours helping develop the Eldros Legacy and learning how to do a bunch of new things for New Mythology Press, and I would say it wasn't a wasted year.
That's especially true since I only count things I've finished in a calendar year. This total doesn't include, for example, the 70k or so I've got written in The Door Into Winter nor the editing I've done for The Keen Edge of Valor, as they aren't yet finished.
I'm proud of all the stories I wrote and helped put out in 2021. This is highlighted, of course, by The Ravening of Wolves. This novel really came together, I think, thanks to a bunch of tales given to me by friends who've seen the challenges behind the scenes in the military. Much of what went into that book are inspired by actual SNAFUs, because the main universal truth in military history that I can find is: "Shit happens."
Of my short stories, I tried a number of whimsical things. For example, Careful With That Axe, E.U. Gene included over 200 song and band references hidden within about 9000 words. The biggest result, of course, is The Incomparable Treasure, which comes out at some point in 2022 as part of Larry Correia and Kacey Ezell's next SF/F noir anthology, No Game for Knights. This is a huge honor for me, and I'm really excited about it.
I certainly learned a ton with New Mythology Press this year. I can't thank Chris Kennedy enough for the opportunity and I hope I live up to his expectations.
I would say I earned a B- grade for my work as publisher in 2021. I tend to be a harsh grader, but as I look back I see areas I can improve upon. Now, to be fair, the biggest area I need to improve upon is simply experience, and that's happening, but I could have accelerated my learning curve in places.
Nevertheless, I did learn and improve as the year's gone on. I'd better, as I have a bunch of things to publish in 2022, which I'll talk about in another blog post.
I am most proud of Responsibility of the Crown, I think. It was the first novel I'd ever edited, and I think it came out fantastic. It helps that G. Scott Huggins is a great writer, but I do think I contributed.
It was nerve-wracking for me, in some ways, but the results really fired me up. Like many writers (and now as publisher), I suffer from constant self-doubt and seeing the difference between the original draft Scott sent me of Responsibility and the final draft helps me believe I have some skill in this process. Again, though, it's not a great story without Scott doing the heavy lifting.
I'm also proud of the Talons & Talismans anthologies. They were a challenge, one that made Chris shake his head and chuckle at my expense a time or eight.
However, those anthologies did much of what I wanted. I got involved with experienced writers I hadn't worked with before, like Aaron Rosenberg, who I hope to publish a bunch more times down the road. I got a bunch of new writers opportunities, like Michael Gants, who I think you'll be seeing fairly often in the future.
I also got to rummage around in the process of making anthologies at a much more detailed level. I'd done two prior to Talons & Talismans, but this was more, and I needed it.
On the behind the scenes side of things, I had a couple of hiccups with my mailing list, but I'm pleased with where I'm at now. I started working with the Writers House of Corrections to build that mailing list even more. Long term, I think that list and this blog, not Facebook or other social media platforms, will be my primary forms of interaction.
I learned a ton about how book art gets made. I knew some of it from self-publishing my first six novels, but there's always more to learn. I'm amazed at what artists like Melissa Gay and Jake Caleb constantly produce.
Most fun of all is getting to know the editing staff of Chris Kennedy Publishing better. Mia Kleve is an amazing bedrock of competence. It was she, in fact, who created the above mosaic of covers, within like 2 minutes. Tiffany Reynolds is incredibly fast and skilled. I didn't get to work with Beth Agajew as much in 2021, but I've had the pleasure before. We brought in Jonathan Miller too. He edited Seeds of Dominion and we have more plans for him.
I also got to interact with the advance readers more. Shawn Carey is a machine. He is an unseen, but much appreciated member of the team. Another is Zach Ritz, who routinely catches a bunch of errors that have slipped past all of our editors, including me. That's a much less common skill than I think people realize.
A long time ago, I realized writing was about creating a team around the writer. That's even more true about publishing. If I want to point at any one single thing I'm pleased with in 2021 it's the creation of a new team around me, one which I'm already blessed to be a part of.
I'm just going to conclude that I'm looking at my shelf of books, the shelf holding books I'll be selling at conventions. There's Jon Osborne's Milesian Accords series, including The House Between Worlds which I helped publish. There's Khyven the Unkillable, by Todd Fahnestock, first of the Eldros Legacy novels. There are Four Horsemen Universe titles, especially The Ravening of Wolves.  And there's all sorts of titles produced prior to 2021. There's a lot of titles there, but a bunch more are coming.
2021 was the start of something awesome.