Week 33 of 2023

Greetings all
Well, I made it home safely from Pennsic. However, I had to jump right back on the road up to North Dakota for some family things. Nearly 40 hours of driving in 4 days makes a tired me. There are some great things happening, though.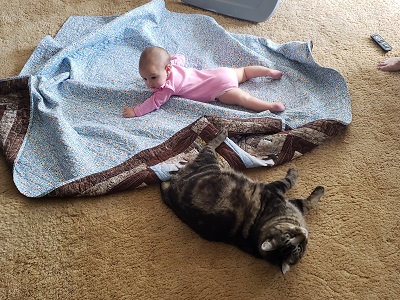 Check out this picture of Thomas the Cat taking care of JJ the Grandbaby. We've actually had an abundance of cuteness as not only is there JJ, there's a tiny kitten my sweetie rescued bumbling around.
I haven't done much work this week, for reasons not excuses, but I can't complain about all the cuteness.
Also, there's so much going on with stuff already in progress, I barely have time to breath. First, it's been a month since A Hope In Hell came out. This is book 3 in Christopher G. Nuttall's excellent Heirs of Cataclysm trilogy. It's been a great honor to be a part of this and you can see why by getting it here: amazon.com/dp/B0CBDGZ7D6/.
A Lake Most Deep is only a couple of weeks old and I'm very pleased with the release. Here's one of my favorite reviews on the book so far: jimbossffreviews.blogspot.com/2023/08/rob-howells-lake-most-deep.html. Thanks to Jim for such an in-depth review.
Get A Lake Most Deep here: amazon.com/dp/B0CCKVLPBL.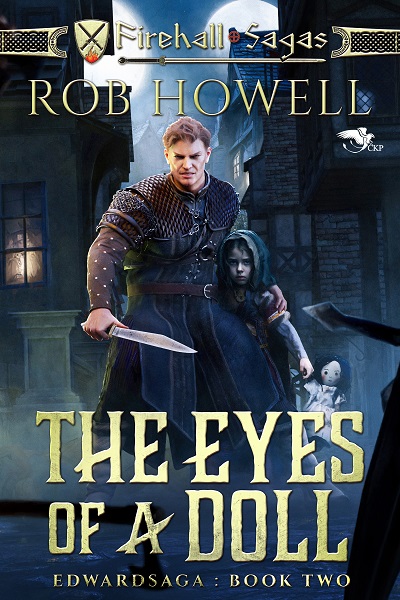 I did a cover reveal of The Eyes of a Doll last week, but here it is again. It comes out on the 29th, so in less than two weeks.
In this one, Edward just has to retrieve a girl's doll lost at a picnic. What could go wrong?
But wait, there's more. I was accepted to an anthology of horror coming out around Halloween. Expect a cool cover reveal in a few weeks. My contribution is literally the first story I ever wrote. Man, did I cringe when I edited it.
And there's still more!
Imagine That!, a new Postcards anthology following Imaginarium, comes out tomorrow. Again, I'm honored the folks at Raconteur Press chose my story and I think you'll all like it.
After we get all the family stuff dealt with, I'm looking forward to an extended period of little travel. It's time to start settling down after a really busy past few months.
What I'm Listening To
The baby and the kitten playing together. Pretty darn cool, if you ask me.
Quote of the Week
Happy birthday to Brian Aldiss, who has a quote that really resonates with me. I've certainly never fit into the system.
 Why had I become a writer in the first place? Because I wasn't fit for society; I didn't fit into the system.
– Brian Aldiss
Rob's Riddles

I have a Patreon where I write Old English style riddles and provide snippets of my work. You can find it here: patreon.com/rhodri2112, along with a sample riddle.
First Line of Next Riddle:
I am a king      Conquering all before me
Latest Snippet: Chapter 2 of A Lake Most Deep
New Mythology Works in Progress
Of note, this now includes our recent releases, so if you're not sure what we've put out lately, you can go here and check.
Rob's Works in Progress
Sowing Spring's Wrath (3,213)
Farewell, My Ugly (80,232)
Rick Blaine (8,845)
The Feasting of Vengeance (3,405)
Upcoming Events
Pennsic War, July 28 – August 13, Slippery Rock, PA, pennsicwar.org
20Books to 50K, November 6-10, Las Vegas, NV
20booksvegas.com
Planet Comicon, March 8-10, Kansas City, KS
planetcomicon.com/
Tracked Items
Today's Weight: 356.0
Updated Word Count: 209,354
Firehall Sagas Archives: 743 entries
Let me know if you have any suggestions on the website, this email, or cool story ideas at
rob@robhowell.org
. Especially let me know of suggestions you have for the Spotlight section.
Have a great week, everyone.
Rob Howell
Creator of the Firehall Sagas Universe