For the first quarter of 2020, my Wednesday interviews will be with authors who are part of When Valor Must Hold, the upcoming anthology of fantasy stories published by Chris Kennedy Publishing.
The first interview is with one of the first people I thought of when I got permission to create an anthology. The moment you meet this guy, you can envision him with a giant greatsword standing next to Conan or some other great hero of legend. And then afterwords, he'll be the one drinking mead until the gods get tired.
I interviewed William Joseph Roberts not too long ago. You can find that interview here: https://robhowell.org/blog/?p=1845. However, this is a new set of questions freshened up for 2020, and he was generous enough to fill out the new version as well.
His story in the anthology is entitled "Dust in the Mouth" and it's as if Lovecraft wrote a Conan story. Or Howard wrote a Cthulhu story. No surprise, given his influences.
Interview: William Joseph Roberts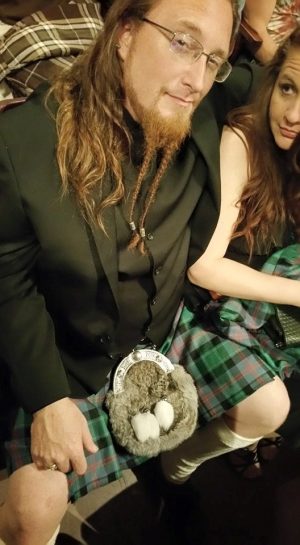 Why are you here?
What are your influences? Without questions, Robert E. Howard, H.P. Lovecraft, Robert Jordan, Douglas Adams to name a few.
Who are some favorite other creators? That depends on the type of creation you're talking about. I mean, you've got Irish Mike making these massive swords and stuff to classic cover artists and such. That's a wide spectrum to start naming names.
What made you a creator in the first place? The love of invoking an emotional or physical response in someone. There is nothing like seeing something that you puked out of your brainpan cause a response in someone else.
Why did you choose to create what you create? Just the way that the muse strikes me and what the evil brain squirrels tell me to do.
Feel free to add things you would someday like to create. Hehe…  um… that's a freaking big list. Um.  How about a world so iconic that it is more or less a household name and lasts into the next century in similar fashion to the works of Howard and Lovecraft.
Describe your great Lab of Creation?
Where do you work? Home? Coffee Shop? All of the above
Do you listen to music? If so, give some examples. Absolutely! Basically from any genre. It just depends on what the mind squirrels demand.  Here's a good example.  In the last week alone with the different stories that I have been working on, I have swung from Megadeth to Postmodern Jukebox to Moonshine Bandits and back to Nahko and Medicine for the people. I'm all over the place when it comes to music.
What other things exist in your productive environment? Side projects, just little things around the house that I can be creative with to give the squirrels a break and do something different.
What things have you tried that haven't worked? Critique groups. I spun my wheels for years in critique groups that went nowhere. One part of the problem is that they focused on literary fiction, not pulp fiction.
What are your superpowers?
What kinds of things do you like in your creations? I like reality and the average joe over super powers and seemingly immortal characters.
What are specific techniques you do well? I'm not entirely sure. I've been told that I pull on raw emotion at times and paint pictures well.
What are some favorite successes you've achieved, especially things you had to struggle to overcome? I published my first novel, fLUX Runners on my own after a lot of hard work and a whole hell of a lot of fighting with those demons in the back of my head. Then I turned around and finished my second novel in 2 months.  :-/  Go figure.
What will Lex Luthor use to defeat you?
What are some of the challenges you have faced that frustrated you? Distractions, self-doubt, lack of knowledge. Top of the list would probably be the lack of knowledge being shared in part of the writing community.  If the knowledge that LibertyCon existed had been spoken about, I could have learned about it years ago. The group I was with knew about it, they just didn't like to talk about "those" authors.
Do you have any creative failures which taught you something? What were those lessons? Yes, my old podcast. We had a blast and we helped to spread the word to a lot of people about different artists and their works, but it was a failure in that I lost my focus. Instead of being a platform to promote myself and my work, I focused on making a better podcast.  Now the upside to all of this hard work was the knowledge gained on networking, promotion, and collaboration.
How do you overcome normal slow points like writer's block? Jump to another story or project. The squirrels get bored if they are stuck on the same thing for too long.
Which mistake would you try to keep other creators from making? From spinning their wheels doing something that will never pay off. (Critique groups!) While they may be great for some people, they did nothing for me.
If you could go back and tell yourself anything about writing, what would it be? TO WRITE! See, way back at the start of my podcast, I had the privilege of interviewing author Ben Bova. Now the one thing that he kept saying over and over again was, that if you want to be a writer, then write. Don't make excuses, just sit down and write. Choose a set time that is your writing time and that's when you write, without question. Everyone else is to leave you alone during this period unless it is an absolute emergency.  Well at the time, with the distractions of the podcast and three small babies, it didn't sink in.  It finally did after a while. I now get up at 0400 every morning if not earlier and write till at least 0600 before getting ready for work. Add in my hour of lunch and any other time that I can squeeze in, I'm finally doing it.
Lightning Round
Favorite Muppet? Animal
Favorite Musical Performer We've Never Heard Of? Tiny Tim
Favorite Superhero? Lobo
Favorite 1970s TV show? BJ McKay and his best friend Bear
Favorite Weird Color? Der… intestinal pink?  … hell I don't know
Favorite Sports Team? What if you don't watch sports?
Best Game Ever? Starflight
Winter, Spring, Summer, or Fall? Spring
Best Present You've Ever Received? A framed picture of my Grandkids
What Cartoon Character Are You? Hell if I know. The kids just said I'd be the Mask
Your Wrestler Name? Bubba Joe Bob
Your Signature Wrestling Move? Spine Splitter
What Do You Secretly Plot? The fall of the mosquito empire! Those bloodsuckers will pay for generations of attacks upon our people!
How Will You Conquer the World? Everyone loves brownies.
Best Thing From the 80s? Mullets, music and muscle cars!
Favorite Historical Period? 1600's and the colonization of the Americas
Most Interesting Person In History? Shakespeare
Steak Temperature? Mooing
Favorite Chip Dip?  Guac
Favorite Cereal? Cocoa pebbles
What Do You Eat For Your Last Meal? Pot of crawdads with a side of soup beans, cornbread, fried okra and fried green tomatoes.
Beverage(s) of Choice? Coffee
Do You Have Pets? Yes, two pups.. do kids count?
What Actor or Actress Should Portray You in Your Biopic? Der… that guy that played Ron Weasley just cause he's a redhead?
What Question Should I Add to the Lightning Round? The most embarrassing moment you're willing to share.
fLUX Runners CoverTell me again where we can find your stuff?
fLUX Runners https://www.amazon.com/dp/B081M3XKBV
And my next novel, Widowmakers will be coming out soon from Canon publishing.
Currently working on Wildcat for the Fallen World universe along with a number of co-author projects in a wide range of genres
And where can we find you?
Upcoming events and conventions you plan to attend. Chattacon (Jan), Anachracon (Feb), FantiSci (March), Conglomeration (April), Metrotham (May), LibertyCon (June), Next Chapter Con (Sept)
Do you have a creator biography?
In a previous lifetime, William Joseph Roberts was once an F-15 mechanic and Staff Sergeant in the United States Air Force. He has traveled the world and experienced many things in his few years.
During his tenure in this lifetime, he has been called a Jack of all trades, a Renaissance man and insane squirrel wrangler by his peers. Since his enlistment he has perused careers as an industrial and architectural designer, design engineer, and now, eclectic writer.
William Joseph Roberts currently resides in the quaint southern town of Chickamauga, Georgia with his loving wife, three freaky smart nerd children, and small pack of fur babies.
Final question for you: What should I have asked but did not?
Most folks at some point usually ask WTF is wrong with me.  I generally just smile, then maybe give them a face lick. 😊
---
Thanks to William for taking the time to answer my questions.
If you have any suggestions or comments about this interview format, let me know so I can keep tweaking it.
Also, thanks to you for reading. If you're interested in any of the other interviews I've done, you can find them all here: https://robhowell.org/blog/?cat=326. If you are a creator, especially an independent creator, and you want to be spotlighted in a future interview, email me at rob@robhowell.org.
Finally, if you want to join my mailing list, where I'll announce every interview, as well as what's going on in my life, go to www.robhowell.org and fill out the form (Name and Email Address) or drop me an email and I'll add you.
Have a great day.
Rob Howell
Author of the Shijuren-series of novels