Week 49 of 2021

Greetings all
I made a mistake last time because I didn't double-check something. Shame on me. I said Seeds of Dominion is coming out on the 2nd of January, but it is, in fact, coming out on the 4th of January. My apologies for the confusion, but the good news is that it's the best thing of Quincy's I've ever read, and he's got a lot of cool stuff out there.
This was also not my most productive work week, largely in part to Christmas-y stuff, along with pet stuff. I basically lost all weekend and all day today. Pets are totally worth the effort, but man, they can be exhausting.
Still, I'm basically done with the first draft of Fleece Navidad, my freebie story which I'll be sending out to all of you on my mailing list. I also made progress on Embers & Ash, by Marie Whittaker, which is the third Eldros Legacy book. I also did some foundational work, but still, not as much as I'd hoped. Some weeks are like that.
We also recorded a special Dudes in Hyperspace, finishing the episode tonight. We interviewed Emily Berson, who is a USO rep. That's quite an honor for me, and they do so much cool stuff for our service members.
Of course, we've been enjoying the response to Khyven the Unkillable. It's done very well, despite Amazon having not one, but now two AWS outages. It's too hot for them to handle, apparently.
Seeds of Dominion, by Quincy J. Allen, is the next Eldros Legacy book, and it's basically ready to go and comes out on the 4th of January, as I clarified above. See below for the cover reveal.
I think that's it for now. Everyone have a great week, and I'll touch base again next Christmas Eve Eve.
What I'm Listening To
Chiefs at Chargers. It's a heckuva matchup and I've been looking forward to it. I've liked the Chargers as sort of a second team since the Dan Fouts/Kellen Winslow/Charlie Joiner/Chuck Muncie days. That was such a fun team to watch.
Quote of the Week
The Great White Fleet began it's circumnavigation of the world on this day in 1907. That means there's only quote appropriate for the day.
"Speak softly, and carry a big stick.
– Teddy Roosevelt
Dudes In Hyperspace

Follow the Dudes In Hyperspace here:
https://www.sharkflight.com/dudes/
The latest show includes an interview with Emily Bernson, a member of the USO, though it won't be live until tomorrow, the 17th.
Cool Stuff In Eldros Legacy
Get five free stories and signed up with the Eldros Legacy mailing list! Here There Be Giants is at: https://dl.bookfunnel.com/qabsr57lq3+.
Khyven the Unkillable is out and getting great response from its readers. You can find it here: amazon.co.uk/dp/B09N288DCC.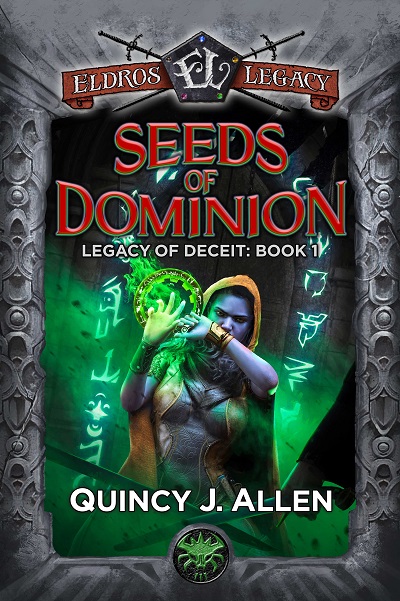 But the big thing this week is the fantastic cover of Seeds of Dominion. Jake Caleb created the art, and you can see just how awesome he is.
New Mythology Works in Progress
We have no current open anthology calls but will have a new one in January.
I'm currently working on getting Embers & Ash and The Keen Edge of Valor.
Giveaways
Rob's Works in Progress
The Door Into Winter (58,990)
Rick Blaine (8,845)
CB (8,418)
Fleece Navidad (7,151)
Tracked Items
Today's Weight: 332.8
Updated Word Count: 355,326
Eldros Legacy Archives: 802 entries
Let me know if you have any suggestions on the website, this email, or cool story ideas at
rob@robhowell.org
. Especially let me know of suggestions you have for the Spotlight section.
Have a great week, everyone.
Rob Howell
Founder in the Eldros Legacy series