Week 15 of 2023

Greetings all
I promised big news last week on a non-writing project and here it is. Before I get to that, I have another announcement.
Huge congratulations to Sheellah Kennedy for being unremarkable! Well, she's not, as you know. She's awesome, but in this case, it means that she's on top of her health issues. The warning signs noted by the doctor were, in turns out, unremarkable.
Which is wonderful to hear.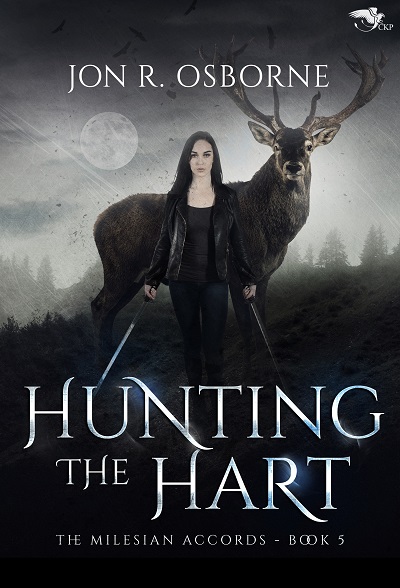 Now onto the big announcement… errr… after another one.
Hunting the Hart, book 5 in Jon R. Osbourne's modern fantasy series The Milesian Accords, is now available to pre-order for Audible.
Pre-order it here: audible.com/pd/Hunting-the-Hart-Audiobook/B0C24XX31G.
OK, now onto the big announcement, and this time I mean it.
The wife and I are on the move. We closed on a great building in Anthony, KS where we can open up the quilt/craft/yarn/weaving store she's always wanted and I can have a bookstore.
That means my writing/editing has suffered as I pack frantically. We've got the movers coming on Monday, and we want to make sure we have enough stuff packed to make the expense worthwhile.
This just in, we have too many books. And skeins of yarn. And games. And and and.
Normally, we'd take time to pare through stuff and see what we're willing to part with. However, the new place is so big, we don't have any space issues and we don't have time to pay that much attention.
Sooooo… if you wanna come help us pack on Sunday, you're welcome to volunteer.
I'm late this week on a number of projects. I didn't get my riddle sent out, which I'm aiming to fix today. I didn't get much writing or editing done.
However, I'm taking my own advice. I tell my writers that there's a difference between reasons and excuses. Avoid excuses, even to the point of chastising yourself when you use them.
But reasons? Just accept they exist and power through them. The most important thing when you're dealing with reasons is to prevent yourself from getting angry with yourself. That leads to a spiral that ruins your productivity for a long time.
I'm puttering with writing and editing when I can, and hopefully this is just a blip. Lots of fun plans for the summer, when everything settles down a bit.
In the meantime, welcome to my madness!
What I'm Listening To
Speaking of madness, I'm currently listening to Ozzy Osbourne's No More Tears, which has one of my favorite bass lines by Bob Daisley.
Quote of the Week
One of the great events in Japanese history happened today in 1612: Miyamoto Musashi defeated Sasaki Kojirō at Funajima island. Since we haven't had a quote from Musashi in a while, here's one of many great quotes by him.
Also, it's relevant to the reasons/excuses thing. So much of writing is keeping your head in a good place. Give what's in yourself a chance to be awesome.
"There is nothing outside of yourself that can ever enable you to get better, stronger, richer, quicker, or smarter. Everything is within. Everything exists. Seek nothing outside of yourself."
―
A Book of Five Rings: The Classic Guide to Strategy
Rob's Riddles

I have a Patreon where I write Old English style riddles and provide snippets of my work. You can find it here: patreon.com/rhodri2112, along with a sample riddle.
First Line of Next Riddle:
I have saved a realm       Riding on the waves
Latest Snippet: Chapter 5 of Farewell, My Ugly
New Mythology Works in Progress
Rob's Works in Progress
Sowing Spring's Wrath (3,213)
Farewell, My Ugly (72,812)
Rick Blaine (8,845)
The Feasting of Vengeance (3,405)
Upcoming Events
Lilies War, June 9-17th, Smithville, MO, lilieswar.org
LibertyCon, June 23-25, Chattanooga, TN, libertycon.org
Pennsic War, July 28 – August 13, Slippery Rock, PA, pennsicwar.org
New Releases
This week we have Children of the Fall, by J.P. Chandler. It's a new release in the excellent post-apocalyptic Fallen World universe. Get it here: amazon.com/dp/B0C1J99413.
Your pre-release this week is Mike Jack Stoumbos' first foray into the 4HU, Defender's Rise. This book gives you a look at the elSha and opSha, a couple of races that—until now—have been secondary in nature, so it's not to be missed. Get it here: amazon.com/dp/1648557058.
Tracked Items
Today's Weight: 351.0
Updated Word Count: 109,884
Firehall Sagas Archives: 737 entries
Let me know if you have any suggestions on the website, this email, or cool story ideas at
rob@robhowell.org
. Especially let me know of suggestions you have for the Spotlight section.
Have a great week, everyone.
Rob Howell
Creator of the Firehall Sagas Universe