Frankly, this was probably my least favorite issue I've read so far. I didn't care for any of the stories except one, none of the ads were fun, and nothing else appealed to me. Hence, I'm just going to give you a cursory review. I've got things to write in None Call Me Mother instead of drearily going over these stories.
Table of Contents: http://www.isfdb.org/cgi-bin/pl.cgi?58435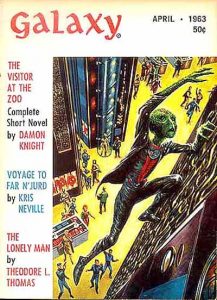 The cover story is The Visitor at the Zoo by Damon Knight. You know Knight at least because of To Serve Man, a fantastic short story from 1950. Visitor was not his best effort. The cause of the conflict is never adequately explained, it ran too long, and the twist at the end was predictable.
Worse, I can't root for the main character. He's a moderately intelligent alien in a zoo who has his brain somehow transplanted into the mind of a passing journalist. We are meant to root for him because he's got a chance to get out of the zoo where he had been trapped. I empathized with that aspect, but the journalist was simply an innocent tourist, who lost everything. There's little in the story of sympathy for him, and in the end, the creature chooses not to exchange positions and return to the way it was.
I can both reject the legitimacy of the zoo and at the same time despise the selfishness of the main character. And I do. I said this wasn't Knight's best effort. I sure hope it was his worst, because I really disliked it.
On the Fourth Planet by J.F. Bone was the only story to be reprinted often. It was about an alien struggling for life in a desolate world with the remnants of his people. It's a hard life, and the law doesn't allow for much leniency. Unfortunately for this alien, he runs into an object that hasn't been there before. It fills him with food and hope. It also returns to him the cellular memory of his people, suggesting a way they can grow out of their barbarism. As you can probably guess by the title, it's a NASA rocket that has landed on Mars.
The best story of the lot, by far. However, it's not a great one, just a good solid story that in a better issue would have seemed like a nice supporting piece. Here, it was drug down by the awful cover story.
I suspect I'll really like the June 1963 issue, if I every run into it. It has stories by Clifford D. Simak, Gordon R. Dickson, Keith Laumer, and John Jakes. This issue, however, was not my cup of tea.
Next week I'll review the Imaginative Tales from September, 1955. It has a story by Mack Reynolds and an interesting thing I wish more magazines had done.
Next Week's Issue: http://www.isfdb.org/cgi-bin/pl.cgi?183245
---
If you have any comments or would like to request I keep my eyes open for a specific issue or month, feel free to comment here or send an email to me at: rob@robhowell.org.
If you want to see previous reviews, the Mag Review category is here: https://robhowell.org/blog/?cat=432.
Have a great day.
Rob Howell
Author of the Shijuren-series of novels