Greetings all
After a tumultuous October, it's time to get back into the normal groove.
This week I'll review Imagination, Vol. 1, No. 1 from October, 1950. Yes, that's right, it's the first issue of this magazine. I'm actually curious how it might differ from a regular issue, so let's dive into it.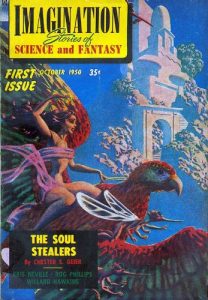 Table of Contents: http://www.isfdb.org/cgi-bin/pl.cgi?58906
Inside the front and back covers is a neat blurb and pictures about the new "scientifilm" Rocketship X-M. It's a very 1950s sort of film, especially in how it looks at Mars, but it looks interesting.
We start reading with a rather large Editor's column with one part by Forrest J. Ackerman and the rest by the regular editor, Raymond A. Palmer.
Most of you probably recognize Ackerman, but maybe not Palmer. However, Palmer was a foundational piece of SF magazines. He helped start one of the first fanzines and as editor for Amazing Stories bought Isaac Asimov's first professional story. Imagination was his baby, for all intents and purposes.
In general, the editorial promises what Imagination would be. It is not terribly remarkable as it states that it will provide a freshtake on the SF magazine. However, based on what I see in the editorial and his biography, I think Palmer would have loved to be at the 20Booksto50K conference this week. He seemed to really enjoy bringing in new authors.
The first story in the issue is Chester S. Geier's The Soul Stealers. It's a workmanlike story, in my opinion. It suffers, I think, from a little too much plotting, in that I struggle at some of the transitions. A certain thing has to happen, so it happens, but I was not convinced by the events in the story that the thing was going to happen. It's got action and mystery, but it didn't quite mesh for me. It's technically good, but left me wanting a harder fight for the protagonist.
Immediately after is a small space-filler that discusses the amazing impact of trucking and heavy earth-movers on American society. This is the most striking line: "All this is a harbinger of the future. Instead of concentration in cities as has been happening all over the world for the last few centuries, it is possible for a civilization to spread itself out all over the country and still produce as effectively as if it were in one spot" (p. 39). This is coming to pass, but Palmer could have had little idea of the internet. Still, it's a prescient thought.
The next story is Wind in Her Hair by Kris Neville. I confess that when I see the name Neville I *always* think first about a shield bearing the device gules, a saltire argent, with 50 troops attached from the game Kingmaker. Sorry, not sorry.
Anyway, this Neville is a Missourian I have not ever heard of before. The reason why is SF was too limiting for him and after publishing a number of stories, he went to do other things that interested him. Namely, epoxy resins.
After reading this, I really wish he hadn't shifted to epoxy resins. Wind in Her Hair is one of those "what happens on generational ships" kind of stories. How will our society evolve, and that sort of thing. This is a great example of the subgenre, because, in the end, it's not really human society that's evolved, but our physiology.
A screwed up environmental system meant the people on that ship now cannot breathe Earth air or live on Earth at all. The only way they find out is by actually returning to Earth. They're excited about coming home, dreaming dreams of a future outside the ship, only to have their dreams crushed. Fantastic story.
Rog Phillips is next with One for the Robot – Two for the Same … Phillips, actually Roger Phillips Graham, is vaguely familiar to me, but I cannot recall reading anything by him. I'll look for him in the future, though. His writing career is a tad tragic, and it's a shame, because he looks to be a very good writer.
This story is about a scientist who tries to figure out how to transfer a human's brain to a new, robotic body to make himself immortal. He figures out the secret, but in so doing he discovers something that essentially destroys him. He loses his reputation and becomes an alcoholic.
Another scientist replicates his work and tracks him down. He wants to know what it is that the main character discovered that destroyed him. He wants to try it himself, but doesn't want to make the same mistake.
The main character's first name is January. It's a cool hint at the answer. The procedure doesn't transfer the brain, it copies it. There is now a second one of himself, one facing back to what he has done, and the other facing to an immortal, robotic future. I'm not sure what I'd do in that situation, either. Very good story that kept me wondering until the end. It is only afterwards I really understood his first name.
Next is a couple of short essays. One discusses how brains work much the same as a TV or telephone does. The second essay talks about the brand new instrument, the encephalograph, and how it can help us understand sanity and why people murder other people. I wonder what we think of as cutting edge will seem so quaint to people in 2090.
We move on to the next story, Look to the Stars, by Willard Hawkins. Hawkins is another author I can't remember having read before.
I'm a sucker for anyone who writes a mythology to start the story from whence that mythology derives. I like piecing the clues together, and this has all of that.
A crazy scientist creates a spaceship. Eight others come to him, not really by choice. By seeming accident, they get on the ship and it activates, sending them to the stars. But the ship has been encased in a special form of clay that holds anything with a spark of like in stasis, and takes them, along with all of the creatures and plants it has captured to a far distant world. These then repopulate the planet. The mythology is that of the eight's descendants.
Part of the fun is the fact that seven of the eight are criminals and awful people. But the last line is, "All were gods, stupendous beings of high courage and noble aims…" (p. 149). It's a good story. It drags a bit, and could have been smoothed, but it is still a fun read.
The last story is Inheritance by Edward W. Ludwig. This is actually his first published story of 25 or so.  It's a solid story and creepy. A dog and her puppy run down into a cave and gets lost and her master chases them into the tunnel. They get lost for several days. During that time a chemical attacks kills everyone else on earth, but never reaches them.
He is initially terrified of being the only person left alive and contemplates suicide, but decides to have a last meal. He enjoys the best steak he can find, cigars he could never have afforded, and good scotch. He decides to enjoy these good things for a bit. Then he remembers there's so much left to see on earth, and he decides to go visit them. There may not be people, but he's got his dog and her puppy and he loves them more than people anyway.
After this story is a personal ad section. These include:
Have you seen flying disks or believes invisible beings walk the earth?
Selling a collection of SF/F books 3 for $1.
The Universal Musketeers , an unofficial fanclub around Newport News, VA, is looking for new members.
An F.J. Ackerman at 236 1/2 N. New Hampshire in Hollywood seeks certain magazines and books
Last is the letters to the editor page. First off is one by Chet Geier, yes the first author in this issue, thanking Palmer for the opportunities he has given him. There's also a similar letter by Rog Phillips. My favorite letter is the one announcing all the things happening at Norwescon 1950. I wonder when this issue of Imagination was actually released, because Norwescon was actually on Labor Day, 1950 and this was the October, 1950 issue.
Anyway, though I didn't really know any of authors coming into this issue, I really liked it. There's no earth-shatteringly amazing story in here, but they're all at least solid. Altogether, it's an auspicious beginning and I look forward to future issues.
Next Week's Issue: Fantastic Universe (December, 1957)
---
If you have any comments or would like to request I keep my eyes open for a specific issue or month, feel free to comment here or send an email to me at: rob@robhowell.org.
If you want to see previous reviews, the Mag Review category is here: https://robhowell.org/blog/?cat=432.
Have a great day.
Rob Howell
Author of the Shijuren-series of novels