Next on our authors from Keen Edge of Valor is D.J. Butler. Butler's story Tales of Indrajit and Fix remind me of Fritz Lieber's Fafhrd and Gray Mouser.
His story in Keen Edge is "The End of the Story." It's titled that because it's the third of a trilogy of shorts, with one each in Talons & Talismans I and Talons & Talismans II.
And since I know you'll want more of his two main characters, Indrajit and Fix, I can happily inform you they also star in a full-length novel, In the Palace of Shadow and Joy, as well as short stories in When Valor Must Hold and Songs of Valor.
And speaking of fun characters, wait until you get a load Dave himself.
Interview: D.J. Butler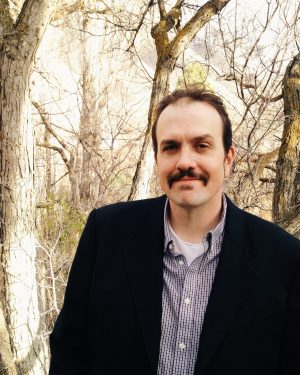 Why are you here?
What made you a creator in the first place? My parents gave me a copy of the silver jubilee 25th anniversary edition of The Hobbit and The Lord of the Rings when I was seven or eight. I stayed in bed for a week reading them back to back to back, and I have been attempting to recapture that experience ever since. Tolkien has influenced what I write on every level, from the genres I choose to write in to the themes and subject matter to my obsession with including music as music in my novels.
What are other major influences on you? Other hugely important novelists to me are Mervyn Peake, Patrick O'Brien, and Dorothy Dunnett. My favorite current novelists in speculative fiction would have to be Tim Powers (I love his playful use of history) and Neal Stephenson (I love the fact that he tackles big ideas within rollicking yarns). There are also songwriters who have had an enormous impact on what I write and how I write it; chief among those would have to be Leonard Cohen, Tom Waits, and Nick Cave.
Are there lesser-known creators you favor? I love to buy art, including writing, by people I know. Some of the lesser-known writers who are my favorites include: L.J. Hachmeister, who writes young adult space opera adventure, including the Triorion Universe books; David J. West (also writing as James Alderdice), who writes terrific pulp fiction influenced by sources ranging from spaghetti westerns to H.P. Lovecraft to Conan to The Book of Mormon (!!!); Thad Diaz, whose Lunatic City launches a terrific noir cop series set on the moon; and Michaelbrent Collings, who writes principally horror, but has also written a delightful middle grade series called the Billy Saga and a reimagined mashup of Twilight and Peter Pan.
Describe your great Lab of Creation?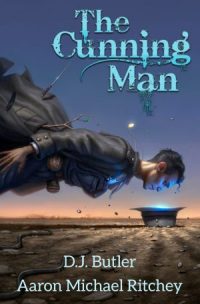 Where do you work? Home? Coffee Shop? Yes. Also: airports, airplanes, restaurants, trains, hotels, convention center floors, friends' parlors, and the shotgun seats of moving cars. I still work for a living (as a corporate trainer and consultant), so I have to write when I can. For a time, I was a full-time writer, and I was very good at systematically writing twelve pages every day, six days a week, but that is unfortunately not my situation now. Now, I will go without writing for a month, and then spend a month trying to write 20 pages a day, however and whenever and wherever I can.
What helps you be productive? Deadlines and contracts. Close association with other writers, who are themselves being productive, inspires me. Reader communication is great—it's very hard to write sequels if you have no idea whether anyone is reading book one. 
What will Lex Luthor use to defeat you?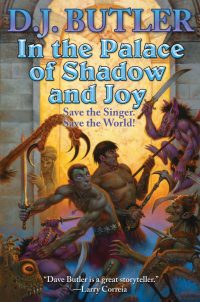 What are some of the challenges you have faced that frustrated you? I'm not as productive as I'd like to be. I have long periods in which I do things in my life that are important and good, but are not writing. I have not been as successful as I want to be at writing every day, no mater what.
Which mistake would you try to keep other creators from making? Never forget that, as a writer, you are an entrepreneur. You are shareholder, CEO, business development VP, head of manufacturing, salesman, and customer service, all at once. You are not an employee of your publisher or of your agent. Be actively engaged in growing your business at all time.
Lightning Round
Favorite Muppet? Dr. Teeth
Favorite Musical Performer We've Never Heard Of? Bonnie Prince Billy
Favorite Superhero? Luke Cage
Favorite 1970s TV show? Kolchak: The Night Stalker
Favorite Weird Color? Magenta
Best Game Ever? RuneQuest
Winter, Spring, Summer, or Fall? Fall
Your Wrestler Name? El Bigote
Steak Temperature? Hot. Medium rare.
Favorite Chip Dip?  French onion
Favorite Cereal? Bacon
What Do You Eat For Your Last Meal? Bacon
Beverage(s) of Choice? Diet Mountain Dew
Do You Have Pets? No
Tell me again where we can find your stuff?
twitter: @davidjohnbutler
In the Palace of Shadow and Joy comes out from Baen Books in July
And where can we find you?
LibertyCon in Tennessee
Dragon Con in Georgia
Do you have a creator biography?
D.J. (Dave) Butler has been a lawyer, a consultant, an editor, and a corporate trainer. His novels include Witchy Eye, Witchy Winter, and Witchy Kingdom from Baen Books, as well as The Cunning Man, co-written with Aaron Michael Ritchey, and the forthcoming pseudofantasy thriller, In the Palace of Shadow and Joy. He also writes for children: the steampunk fantasy adventure tales The Kidnap Plot, The Giant's Seat, and The Library Machine are published by Knopf. Other novels include City of the Saints from WordFire Press.
Dave also organizes writing retreats and anarcho-libertarian writers' events, and travels the country to sell books. He plays guitar and banjo whenever he can, and likes to hang out in Utah with his children.
---
Thanks to D.J. for taking the time to answer my questions.
If you have any suggestions or comments about this interview format, let me know so I can keep tweaking it.
Also, thanks to you for reading. If you're interested in any of the other interviews I've done, you can find them all here: https://robhowell.org/blog/?cat=326. If you are a creator, especially an independent creator, and you want to be spotlighted in a future interview, email me at rob@robhowell.org.
Finally, if you want to join my mailing list, where I'll announce every interview, as well as what's going on in my life, go to www.robhowell.org and fill out the form (Name and Email Address) or drop me an email and I'll add you.
Have a great day.
Rob Howell
Author of the Shijuren-series of novels