Greetings all
We continue this series of interviews with another finalist, C.M. DeMott. Many of you will get to meet her at FantaSci. More of you might know her as Morgan Wolfsinger in the SCA, a renowned bard and storyteller.
C.M. DeMott
Why are you here? This includes influences, favorite creators, steps along the way, and dreams down the road.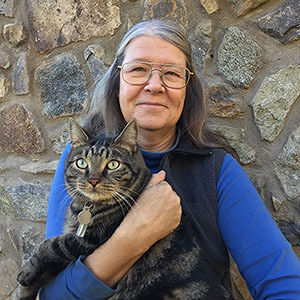 I am influenced primarily by JRR Tolkein, Ursula K. Le Guin, Michael Moorcock, Rudyard Kipling, Susan Cooper and Rosemary Sutcliff. Also, Peter S. Beagle, Manly Wade Wellman, Neil Gaimon, and Charles DeLint.
I decided to write because stories are a door into a different place. A way to meet new friends and challenges, where you control the outcome. I choose to create because the stories inside me want out.
My goal is to get a series of novels I wrote published.
Describe your great Lab of Creation? This includes where you work, what do you listen to (if anything), things you have to have in your work environment, and stuff you've tried that haven't worked.
I work in my tower. Yes, really. My office is in a tower. I'm surrounded by books, model horses, and my airbrushing stuff.
I usually listen to music, notably Heather Dale, Metallica, Evanescence, Nickleback, Jethro Tull.
I have to have a place where I can't be easily interrupted.
What are your superpowers? This includes things you like your creations, specific techniques you do well, and some favorite successes.

I want magic, unicorns, dragons, music, and smart characters who can learn from what I throw at them in my creations.
I think I do best with writing poetry and setting a scene.
What are specific techniques you do well? Poetry. Setting a scene.
My biggest successes so far are self-publishing 7 CDs of my own music and getting 2 short stories published.
What will Lex Luthor use to defeat you? This includes challenges you've faced that frustrated you, learning experiences, techniques for overcoming creative challenges, things you'd have done differently, and advice for new writers.

My biggest challenge is making time to write.
One of my most productive failures was a really horrible customized model horse. Gave me a better eye for perspective and anatomy.
Whenever I have a slow point, I switch to a more physical activity, like sculpting, or to writing music. Switching to a different character story line also helps.
The biggest thing I'd tell new creators is to keep trying. Analyze what you're doing that isn't working, and try to find a way around the road block. For myself, I wish I could go back and pay more attention to grammar and punctuation.
Lightning Round
Favorite Muppet? Kermit, of course.
Favorite Musical Performer We've Never Heard Of? (Ed. Note: I put this here to help us all find cool new things to listen to. She didn't provide an answer here, so I will point out that she's got 7 CDs available. Just sayin')

Winter, Spring, Summer, or Fall? Winter
Favorite Superhero? Dr. Strange
Best Game Ever? Circus Maximus
Favorite 1970s TV show? Dark Shadows
Do You Have Pets? (provide pictures if you want) 3 cats
Favorite Weird Color? Dappled silver black.
Favorite Historical Period? 450-550 CE British Isles.
Steak Temperature? Rare
Favorite Chip Dip?  None
Beverage(s) of Choice? Black tea
Tell me again where we can find your stuff?
Where can we find you?
FantaSci Con this March in NC
The Pennsic War (August 2022, PA)
Do you have a creator biography?
C. M. DeMott is a small animal veterinarian living in southwest Virginia. Since discovering the Society for Creative Anachronism in 1976, she has been writing and performing original ballads based on legend, faery tales, and myths under the name Morgan Wolfsinger.
She currently has seven CDs out, and is working on an eighth. "Choices" in Talons and Talismans II was her first published story. "Fluffers" in The Keen Edge of Valor is her second. You can find her music at morganwolfsinger.bandcamp.com.
* * * * *
Thanks to Cathy for hanging out, and I can't wait to hear her play something at FantaSci.