Week 12 of 2023

Greetings all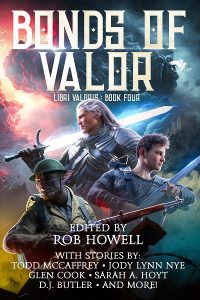 I'm at FantaSci! Which is why I'm a day lat one getting this out.
Bonds of Valor is live. Get it here: amazon.com/dp/B0BZ7BFXN9. 14 great stories of valor with bonds of faith, hope, love, and more.
Todd McCaffrey, Jody Lynn Nye, Glen Cook, D.J. Butler, and Sarah Hoyt lead Team And More into the breach.
Stay tuned next week for next year's anthology theme. Or if you can't wait, I talk about it in the CKP YouTube release party we did on Tuesday.
That link is here: youtube.com/watch?v=r4M0qkZWU4s. I had a great time talking with nearly all of the authors.
I had a great time at Planet Comicon. I sold well, and was especially pleased to see how well Postcards from Mars sold. The art in it is really fun and even people who don't read much thought it was cool.
Because I've either been at a con or on the road to a con nearly every day this week, not to mention a variety of mundane tasks to deal with, I had very little chance to write in Farewell, My Ugly. I had one decent writing session, so about 1500 words and I pushed through yet another rough spot, so it wasn't completely unproductive.
One thing I should mention. I listened to Newsletter Ninja on the way out. This means there'll be a few changes to the newsletter in the next couple of months. Part of that will mean you'll get a few extra emails, stuff I should have built into my mailing list from the beginning. The good news is these will have some free stories and extra content.
I mention it now so you're not surprised. I really appreciate all of you who read this, and want to make sure I'm giving you fair value for both your email address and your time.
But for now, I need to turn my time to FantaSci. Have a great week, everyone.
What I'm Listening To
Rush, Clockwork Angels. I always wear Rush shirts at cons, and this gets me in the mood to be a rock star.
Quote of the Week
Happy birthday to Steve McQueen. Here's a quote from him that is a real challenge for many writers, but it's something we have to power through.
"The world is as good as you are. You've got to learn to like yourself first."
– Steve McQueen
Rob's Riddles

I have a Patreon where I write Old English style riddles and provide snippets of my work. You can find it here: patreon.com/rhodri2112, along with a sample riddle.
First Line of Next Riddle:
I swirl and I swoop          Swiftly striking my prey
Latest Snippet: Chapter 4 of Farewell, My Ugly
New Mythology Works in Progress
A private eye saves his dead friend.

The Black Company deals with something fishy.

Deathmages, space mages, and forgotten magic.

It's all here in fourteen stories of valor, heroism, and bonds that tie folk together, for good or ill. There are bonds of love, oaths to gods, and life-long friends.

Will the old, crusty worn-out veteran find his new partner just might be something? Will the knight learn humility from those who serve him? Will Indrajit and Fix restore the path of true love?

Or will the bonds between characters break under the pressure of evil wizards, ancient enemies, or massive dragons?

Come find out.
Get it here: amazon.com/dp/B0BZ7BFXN9
Rob's Works in Progress
Sowing Spring's Wrath (3,213)
Farewell, My Ugly (71,525)
Rick Blaine (8,845)
The Feasting of Vengeance (3,405)
Tracked Items
Today's Weight: 350.2
Updated Word Count: 107,716
Firehall Sagas Archives: 737 entries
Let me know if you have any suggestions on the website, this email, or cool story ideas at
rob@robhowell.org
. Especially let me know of suggestions you have for the Spotlight section.
Have a great week, everyone.
Rob Howell
Creator of the Firehall Sagas Universe